U.S. Oil Reserves Highest Since at Least 1975 on Shale
Dan Murtaugh and Harry R. Weber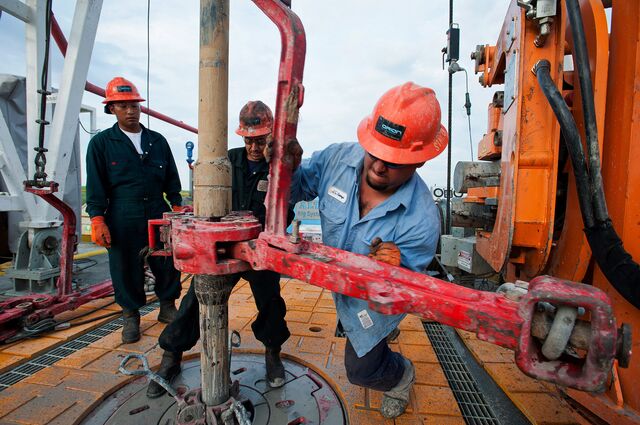 Proved reserves of crude and lease condensate in the U.S. rose 9.3 percent in 2013 as drillers showed they could extract more oil than previously thought from shale formations in places like Texas and North Dakota.
Reserves increased 3.1 billion barrels to 36.5 billion, the Energy Information Administration said today in its annual U.S. Crude Oil and Natural Gas Proved Reserves report. It was the fifth year in a row that proved reserves increased. They also exceeded 36 billion barrels for the first time since 1975.
Proved reserves, or resources that can be recovered under existing economic and operating conditions, grew after U.S. oil output surged to the highest level in 31 years. Companies used horizontal drilling and hydraulic fracturing to extract oil from underground shale rock layers that sat untouched a decade ago.
"We know there is oil," Fadel Gheit, an analyst at Oppenheimer & Co., said in a telephone interview from New York. "We know it will exceed even the most optimistic forecasts. That's the huge leap forward. You're talking about potentially a 50 percent increase in proved reserves in the next three years."
The government's annual estimates of proved reserves are based on survey responses from 480 domestic operators of oil and gas wells, according to the EIA.
North Dakota
Companies discovered 5.5 billion barrels of newly recoverable oil in 2013. Revisions and other adjustments added another 300 million barrels to the reserve tally.
Crude and condensate reserves have grown 78 percent since 2008. While this year's increase was the smallest in barrel terms since 2010, Gheit pointed out that the 2013 information is dated.
"We are closing 2014 and 2014 will be much higher additional reserves than 2013," he said. "The EIA, although I like the information, we want to see what is tomorrow, not what is happening yesterday."
EIA spokesman Jonathan Cogan said in a telephone interview from Washington that the agency would always prefer to have data available on a more timely basis. "It's just a question of priorities and resources," Cogan said.
More than 95 percent of new reserves in 2013 came from shale formations like the Bakken in North Dakota and the Eagle Ford in Texas. About 28 percent of all U.S. reserves are now made up of oil from such areas.
North Dakota had the largest increase in proved reserves last year, about 1.9 billion barrels, which accounted for 61 percent of the nation's total net increase in 2013. The state's reserves surpassed those of the offshore federal waters of the Gulf of Mexico, ranking it second only to Texas among U.S. states.
Lower Prices
Oil reserves in the U.S. are still small compared with other countries. Venezuela held the most in the world with 298.3 billion barrels in 2013, according to BP Plc's Statistical Review of World Energy. Saudi Arabia held 265.9 billion. Canada had 174.3 billion.
Surging production and weaker global demand growth has pushed down the price of U.S. benchmark West Texas Intermediate crude by 38 percent since June, causing some companies to announce cutbacks to drilling plans and other capital expenditures.
Technological advances in drilling will help companies continue to increase reserves even with lower prices, Gheit said.
"Any changes in oil prices would not really have a long-term impact on reserves," he said. "It might have an impact on timing, but not the physical quantity."
Before it's here, it's on the Bloomberg Terminal.
LEARN MORE