Lamer Than the Lame Duck: The Easily Ignored Conservative Pressure Groups
The once-feared third-party organizations have no sway in the lame duck.
By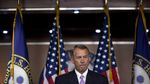 The Club for Growth opposed the "tax extenders bill." So had the Koch network's Americans for Prosperity; the bill included subsidies amounting to a "corporate handout for the wind energy industry."
And yet, last night, the House of Representatives easily passed the bill. (I was at a campaign event for Representative Bill Cassidy, the Republicans' front-running candidate for Senate in Louisiana, who had canceled his appearance back home to add his vote to the landslide.) Only 46 members of the House opposed the bill, including only 26 of the majority Republicans.
Barney Keller, the Club for Growth's spokesman, has been reacting to the latest wave of "whither conservative" reactions.
But "whither conservatives" is the wrong frame for viewing these votes. Americans for Tax Reform backed the package, for example, on the rationale that "if tax extenders were all made permanent, the federal tax grab from the economy would be ... 17.8 percent of economic output, a difference of 0.3 percentage points."
It's a fairly simple disagreement over strategy—over fighting in the end of 2014, or fighting in 2015. The Republican congressional leadership is not interested in waging any real battles as long as a lame-duck Congress, with a Democratic Senate, is in session. Everything's being punted, over the yelps of the conservative groups that House Speaker John Boehner and incoming Senate Majority Leader Mitch McConnell have derided since 2011. Heritage Action, which did not key-vote the extenders bill, is instead key-voting the delightfully monikered "cromnibus," which would fund the government and delay a fight over the president's immigration executive order until next year. "The fight is now, not next year," said Heritage Action's Michael Needham in an accompanying statement. 
Not so. Florida Representative Ted Yoho, who voted against Boehner for speaker, is carrying the separate "defund executive amnesty bill" that Heritage Action and every Tea Party-wing organization considers unacceptable. It's an echo of what happened to the Export-Import Bank this year—after great furor, and certitude on the right that the bank would be killed, a compromise was carried not by a Boehner lackey but by Tennessee Representative Stephen Fincher, a safe-seat victor of the 2010 Tea Party wave. It may not last, and the arrival of a Republican Senate will alter the party's credible rationales for cutting deals.