The Napkin Doodle That Launched the Supply-Side Revolution
Haley Geffen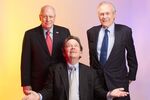 1974 Economist Arthur Laffer sketches his theory of tax policy over dinner with Wall Street Journal writer Jude Wanniski and Ford administration officials Donald Rumsfeld and Dick Cheney, kick-starting the rise of supply-side economics.
Forty years after one of the most famous dinner-napkin doodles in American history, Laffer, Cheney, and Rumsfeld reunited in Washington, D.C., on Nov. 10.
Tell us what you were doing in 1974.
Rumsfeld: I was called back from Brussels, where I was U.S. ambassador to NATO, to chair the transition to the presidency of Gerald Ford. Then I went back to Belgium, and then I was called back again to serve as White House chief of staff.
Cheney: The day after Nixon announced his resignation, I got a call from Don's secretary in Brussels wanting to know if I would meet Don at the airport—he was flying in the next day. When he arrived he was presented with a letter from the president asking him to come straight to the White House. He asked me if I would join him, and I was happy to do so. And so, on Aug. 9, 1974, we entered the back of the White House, where we had been during the first Nixon term.
What was the economic climate at the time?
Rumsfeld: The country was faced with some serious economic problems. And what was coming up through the system was not what I felt represented the direction the country ought to go. So Dick [and I] were looking for all the help we could get.
Laffer: Ford was proposing something called Whip Inflation Now. It was a tax increase, a 5 percent surcharge. That was what he proposed. So I was talking to Don back then, who was White House chief of staff, and Dick, who was deputy chief of staff. I said, "Look, guys, we are not going to get 5 percent more revenue with a 5 percent tax surcharge. You may get 4 percent or 3 percent, or you may actually lose revenue. But you will not get 5 percent, because when you do a tax surcharge it's a really huge increase of progressivity. You will discourage people from reporting income and working."
How frequently did you meet with Art Laffer?
Cheney: During the last half of 1974, when we were setting up the Ford White House, economic policy was a big deal. Art would come by periodically. He saw Don more often than he did me, but I would see him occasionally. And one of those occasions was when he came to the Hotel Washington, at the Two Continents restaurant, as it was called then. That's where we sat down and talked about tax policy and Art drew the Laffer Curve.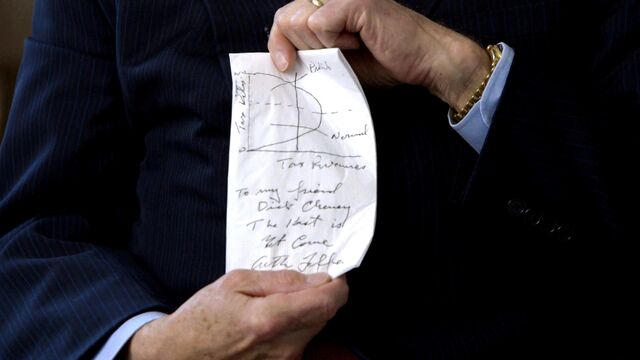 Was it a dinner or a lunch?
Cheney: It was late afternoon, sort of the-end-of-the-day kind of thing. As I recall, it was a round table. I remember a white tablecloth and white linen napkins because that's what [Laffer] drew the curve on. It was just one of those events that stuck in my mind, because it's not every day you see somebody whip out a Sharpie and mark up the cloth napkin at the dinner table. I remember it well, because I can't recall anybody else drawing on a cloth napkin. It was distinctive to some extent, but I also remember the concept, the content of the argument he was trying to make.
And you believe that to be?
Cheney: The Laffer Curve demonstrated pretty clearly that raising taxes might well diminish revenue instead of increase it. The conventional wisdom was: You want more revenue, you raise taxes. What Art brought to the table with these curves is that if you wanted more revenue, you were better off if you lowered taxes, to stimulate economic growth and economic activity.
Rumsfeld: The simplicity of it struck me. The idea that at a zero tax rate you get zero revenue, and at a 100 percent tax rate you get zero revenue, and somewhere in the middle, depending on a whole lot of things—human behavior, incentives, competition—there's an optimal point where you maximize revenue and balance it with incentives for people who are being productive. It was so bold and so compelling.
Dr. Laffer gave you a present today. Do you want to say what it is?
Cheney: He drew the curve all over again, this time on a paper napkin. I put it in my pocket as I wish I would have done 40 years ago.
Now it lives where?
Right now, in my pocket. We'll see what happens to it after that.
What does it say?
That's classified.
How would you classify the Laffer Curve today?
Laffer: It's the same as always. It works. It's not Republican, it's not Democratic, it's not conservative, it's not liberal, it's not left-wing, it's not right-wing. It's economics. People respond to incentives, and if you make something more attractive, they will do more of it. If you make something less attractive, they will do less of it. If you tax rich people and give the money to poor people, you are going to get lots and lots of poor people and no rich people. The dream in our country has always been to make the poor rich, not to make the rich poor.
Before it's here, it's on the Bloomberg Terminal.
LEARN MORE