Kim Jong Un's Sister May Visit Seoul in March for Arts Festival
Stuart Biggs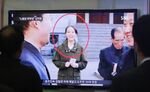 Kim Jong Un's sister Kim Yo Jong may become the first member of North Korea's ruling dynasty to visit South Korea, a South Korean newspaper reported, citing the organizers of a proposed food and arts festival in Seoul.
A South Korea-based business group with ties in North Korea submitted a proposal to South Korea's Unification Ministry for the event in March, the Korea Economic Daily reported on its front page, citing the group. Kim Yo Jong is on the list of officials provided to the group by its North Korean counterparts, the newspaper said.
While the group has expressed its intentions, it hasn't yet submitted a formal application for the event, said a Unification Ministry official who asked not to be identified citing policy. The group, whose name loosely translates as the "South-North Economic Cooperation Businessmen Association," isn't listed on South Korean business directories. There was also no website for the group listed on Naver, the country's biggest search engine.
The proposed event in March is intended to mark the Korean peninsula's 70th anniversary of independence from Japanese rule, the Korea Economic Daily cited the South Korean organizers as saying. The main feature would be a cooking competition between 100 North Korean cooks and 100 from the South, the report said.
The North Korean trading company backing the proposal was formerly overseen by Kim Jong Un's aunt Kim Kyong Hui, the report said.
Family Dynasty
Kim Yo Jong was identified as a deputy director of the Workers' Party of Korea for the first time last month, signaling Kim Jong Un may be seeking to consolidate his family's dynastic rule over a nation with 1.2 million troops under arms and a nuclear weapons program.
Kim Jong Un and Kim Yo Jong are full brother and sister as both were born to Ko Yong Hui, the fourth partner of Kim Jong Il. They grew up together in the capital of Pyongyang and attended the same Swiss boarding school, South Korea's Yonhap News reported this week.
While his sister's promotion is in keeping with the country's history as a family-run affair, Kim showed last year that ties can quickly be broken when he ordered the execution of his uncle Jang Song Thaek, once considered to be his de-facto deputy.
The cult of personality extends to banning the use of the name Kim Jong Un by anyone except the leader, Yonhap reported yesterday, citing a decree issued in January 2011 by his father, then leader Kim Jong Il, though it described the mandate as "voluntary." Use of the names "Kim Jong Il" and "Kim Il Sung," the country's founder and Kim Jong Un's grandfather, has also long been banned in the North, Yonhap said.
Before it's here, it's on the Bloomberg Terminal.
LEARN MORE