How Billable Hours Changed the Legal Profession
Paul M. Barrett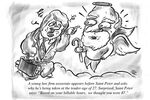 1975 The Supreme Court rules in Goldfarb vs. Virginia State Bar that "minimum-fee schedules" used to set lawyer rates violate federal antitrust law.
In the law business, no institution rivals the billable hour in the generation of large-firm partner wealth—or associate misery. The system of multiplying hours (allegedly) worked by a (dismayingly high) rate "rewards unproductive behavior, invites abuse, and pits attorneys' financial self-interest against their clients' goals," says Steven Harper, a former partner at Chicago-based Kirkland & Ellis who now blogs at the Belly of the Beast.
For partners of large corporate firms, the billable hour functions like a cash printing press. That's because of the magic of "leverage": Partners employ armies of associates whom they compensate at levels far below the associates' billable rates.
To survive at a typical big firm, a midlevel associate has to bill 2,000 hours a year. At a rate of $500 an hour, that associate will generate $1 million in revenue, while costing only $250,000 in salary. To have any hope of one day making partner themselves, of course, more ambitious associates will try to bill 2,500 hours. That creates even more profit for the partners—but also the likelihood of associate burnout and disillusion and, in extreme cases, fraud.
So where'd this great idea come from? For much of the 1800s, legal fees were capped "per service" by state law, and litigation fees were paid by losing parties. Those state restrictions eroded by the late 19th century, freeing attorneys to use a variety of billing methods: set fees for defined tasks, annual retainers, and "contingency fees," which the American Bar Association deemed acceptable in 1908. By the 1940s, state bar associations led a return to standardized fees, but this time with published minimum rates. Through the '60s, the ABA's Model Ethical Code condemned as unethical any attorney who "undervalued" his services and thereby encouraged price competition. At the upper reaches of corporate practice, elite firms were using an "eyeball" method to charge their deep-pocketed clients flat amounts "for services rendered."
A turning point came in 1975, when the Supreme Court ruled in Goldfarb v. Virginia State Bar that bar association minimum-fee schedules violated federal antitrust law. In so doing, the justices helped usher in the era of the billable hour, which continues. In the '70s and '80s, a new cottage industry of law firm consultants urged their attorney clients to keep more accurate records and bill aggressively. Growing phalanxes of salaried associates helped maximize firms' profits.
Since the 1990s, some corporate clients have periodically demanded alternative fee arrangements. In response, creative law firm partners have offered to do certain assignments for flat fees or on sliding scales. The 2008-09 recession forced many law firms to curb the inflation of billable rates and even offer discounts. But the billable hour persists for two main reasons: It gives clients some basis for auditing how they're being billed, and it rewards richly those attorneys who find ways to keep the meter running.
Before it's here, it's on the Bloomberg Terminal.
LEARN MORE