The Mind-Boggling Technological Scope of Facebook
By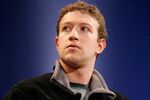 2004 Mark Zuckerberg and Harvard classmates launch a social networking site.
As its membership has grown to one-sixth the size of the world's population, Facebook has had to buy up massive amounts of computing hardware to keep delivering baby pictures and BuzzFeed quizzes. Along the way, it's helped revolutionize how Internet companies process data. Facebook engineers have created specialized software that can unify tens of thousands of cheap servers and developed designs for heat-resistant hardware that can get by without much air conditioning. Spare a thought for the mind-boggling scope of the operation the next time you click "Like."

Before it's here, it's on the Bloomberg Terminal.
LEARN MORE