Era of Lower Oil Masks Challenges for Southeast Asian Titans
Sharon Chen, Shamim Adam and Neil Chatterjee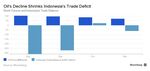 Global oil's fall below $70 provides a reprieve without being a cure-all for some of Southeast Asia's biggest economies, where leaders face reform hurdles that could raise political risk into 2015.
The slump in crude to five-year lows has given the leaders of Malaysia and Indonesia room to dismantle decades' old energy subsidies that have restrained growth. Still, Indonesian President Joko Widodo faces street protests against higher fuel prices as unions plan a national strike to demand higher wages, while Malaysia Prime Minister Najib Razak's efforts to broaden the tax base and cut spending have dented his approval rating.
Both leaders will have further challenges in the coming year. Two months in office, Widodo, known as Jokowi, first rose to prominence from outside the major party machinery and must navigate a parliament dominated by his opposition, while Najib will implement an unpopular goods and services tax in April.
The cases of Indonesia and Malaysia illustrate how an era of lower oil can be a mixed blessing, even for countries where the falling cost of imports should help inflation. For Malaysia it's particularly stark, as state-owned oil producer Petroliam Nasional Bhd., known as Petronas, flags sinking revenue that means it may pay less next year into government coffers.
"The fall in crude-oil prices gives them a bit more room to maneuver in tackling energy subsidies," said Oh Ei Sun, a senior fellow at the S. Rajaratnam School of International Studies in Singapore. "Yet, Jokowi continues to be viewed skeptically by the power elites of Indonesia and Najib faces extremely steep pressure and resistance to the coming GST implementation as well as tensions within his party."
Voters Worry
Najib's approval rating dropped to 48 percent in October from 54 percent in August, according to a survey conducted by the Merdeka Center for Opinion Research. The fall was largely driven by an increase in living costs, according to Merdeka, which polled 1,005 voters with an estimated margin of error of plus or minus 3.1 percent.
Lower crude prices are eroding Petronas's ability to pay dividends to the government next year, Chief Executive Officer Shamsul Azhar Abbas said on Nov. 28. Oil-related contributions make up almost 30 percent of annual state revenue, and will probably cause the government to miss its fiscal deficit target in 2015 despite scrapping fuel subsidies, according to Singapore-based Bank of America Merrill Lynch economist Chua Hak Bin.
Petronas said yesterday it had deferred a decision to build a C$36 billion ($32 billion) liquefied natural gas terminal in Canada as the oil slump worsened the outlook for returns.
'Providing Buffers'
Economic concerns ranging from higher prices for fuel and homes to the new consumption tax worry people the most, the Merdeka survey showed, as inflation next year is forecast to be the fastest since 2008. Najib pledged in October about 4.9 billion ringgit ($1.4 billion) in assistance to low-income households for next year to make up in part for the new consumption tax.
The government estimated in October it would spend more than 21 billion ringgit this year on fuel subsidies.
"Najib is taking advantage of this environment when he can and try to use a bit more of those savings to make it a bit more targeted in providing buffers to some of the vulnerable households," said Euben Paracuelles, an economist at Nomura Holdings Inc. in Singapore. "With prices rising because of the GST and inflation going higher, purchasing power could start to come down. For a commodity exporter like Malaysia, investment spending could also be scaled back a bit."
Political Challenge
In Indonesia, a net oil importer, the opposition alliance led by losing presidential candidate Prabowo Subianto has criticized the government for raising fuel costs while global oil prices are falling, while some within Jokowi's own party have opposed the move. Jokowi will need parliament to sign off on his plans to spend the budget windfall from lower subsidies, and also to switch to a fixed subsidy system.
With the government having factored in a price for a basket of domestic crude at $105 a barrel, a drop to $70 for the basket would erase as much as $11.9 billion from the budget deficit next year, based on figures from the country's Ministry of Finance, said Eric Sugandi, an economist at Standard Chartered Plc in Jakarta. That could go toward the country's estimated $454 billion of infrastructure needs during Jokowi's five-year term.
"While the decline in oil prices is positive for the 2015 government budget as it can reduce the budget deficit, it also poses a political challenge to the government as members of the parliament may question the rationale behind the subsidized fuel price hikes," Sugandi said.
Ringgit Fall
Oil prices are set for the biggest annual drop since 2008 as the Organization of Petroleum Exporting Countries resists calls to cut supply, even as it contends with the highest U.S. output in three decades. Brent for January settlement fell 0.6 percent to $69.25 a barrel on the London-based ICE Futures Europe exchange as of 11:32 a.m. Singapore time, down about 36 percent in the past six months.
While falling oil prices are positive for Malaysian consumers, as a net exporter there will probably be a negative impact on the nation's current and fiscal accounts, according to Wai Ho Leong, a Singapore-based economist at Barclays Plc. The ringgit slid to the weakest level in more than five years today as retreating crude prices damped the growth outlook.
For Jokowi, who inherited an economy growing at the slowest pace in five years, the drop in oil prices is helping narrow a current-account deficit that has hurt the rupiah.
Structural Issues
However, "the issues facing the current-account deficit are still very structural," said Su Sian Lim, Southeast Asian economist at HSBC Holdings Plc. "The low oil price now, while it's helped them to reach subsidy rationalization a little bit quicker, the fact that fuel prices are still subsidized means very gradual improvement in the current-account deficit position."
Economic expansion in Indonesia and Malaysia slowed in the three months through September, underscoring the challenge Najib and Jokowi face as they seek to revive growth. Both are seeking to move their countries away from energy and commodity dependence, while Transparency International said Dec. 3 that Malaysia loses about 5 percent of its gross domestic product to corruption.
"Indonesia, under new leadership, and Malaysia essentially under the same old leadership must move forward on the key structural reforms," said Curtis S. Chin, a Milken Institute Asia Fellow and former U.S. ambassador to the Asian Development Bank. The countries need to address head on the challenge of "bureaucracy, regulations, interventionism and corruption that holds back job creation and economic growth," he said.
Before it's here, it's on the Bloomberg Terminal.
LEARN MORE