Congressmen to Obama Administration: Look Harder at for-Profit College Deal
A group of democratic Congressmen is challenging the sale of for-profit college behemoth Corinthian Colleges to a ECMC Group, a student loan debt collector with what they call "a checkered history"
By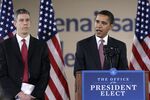 A group of Democratic congressmen wrote a letter (PDF) to Education Secretary Arne Duncan on Tuesday, urging him to "carefully scrutinize" the proposed sale of for-profit college behemoth Corinthian Colleges to a student loan debt collector with a troubled record. The debt collector, ECMC, has been criticized widely for hounding bankrupt students in court and using extreme arguments to deny borrowers any relief on their loans.
"Serious consideration should be given before transitioning management of Corinthian's campuses from one company that profited off deceptive lending practices to an umbrella company that also has a checkered history in student loans," said the letter, which was signed by representatives Steve Cohen of Tennessee, Raul Grijalva of Arizona, and Mark Takano of California. Last month, ECMC offered to buy 56 of the campuses currently run by Corinthian, which is under multiple state investigations for deceiving students and faking job records. ECMC said it would start a new unit, Zenith Education Group, to run the schools, and suggested that its experience in dealing with debt-addled students would help the company revamp its ailing campuses.
"We are concerned that neither the ECMC Group nor the Zenith Education Group has any previous experience in operating an academic institution. Rather, the ECMC Group, as one of the largest student loan guaranty agencies in the United States, has benefited by collecting loan payments from students, sometimes using dubious tactics," the letter said.
ECMC has promised to lower tuition at some schools and offer scholarships. Citing the exorbitant price tag at Corinthian-owned colleges—which can cost "17 times more than comparable programs"—the congressmen said that ECMC should be more generous to students. "The ECMC Group should do more reduce the dramatically inflated costs of attending in order to bring tuition down to a level in line with costs at credible academic institutions."