Cheaper Cars Will Decide the Luxury Battle Between BMW and Mercedes
With one month left in 2014, BMW has a slight lead over Mercedes in U.S. sales
By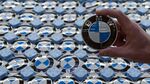 The race to sell the most luxury cars in the U.S. is, once again, totally teutonic: BMW remains slightly ahead of Mercedes going into December, the most critical month for those in the swanky vehicle business.
If its lead holds, BMW will wrest back the blue-chip bragging rights that Mercedes swiped last year, leaving Lexus well behind in third place. Audi, a distant fourth in sales volume, is growing faster than any of the bigger brands, having moved 15 percent more cars in the first 11 months of the year.

Almost as interesting as the race itself is the possibility that for the first time, the luxury car champion will be decided by thirtysomething strivers, not the older, deeper-pocketed buyers who usually dominate. Container ships still carry plenty of German-made marquee models—the 3-series and the C-Class sedan—to U.S. ports. But the real growth in 2014 has come from newer, cheaper models aimed at less-affluent drivers.
Mercedes has moved almost 25,000 of its CLA, a sedan it introduced in late 2013 with a starting price tag just shy of $30,000. Audi's A3 started chasing the same buyers in February and won over almost 20,000 of them by Black Friday weekend. Audi's budget SUV, the Q3, has found almost 3,000 customers since it hit dealerships in August. At BMW, meanwhile, the electric i3 has lured 5,100 buyers since its debut in May. With a starting price around $41,350, the little carbon pod slips into the market as a poor man's Tesla.
"These companies recognize that they have to go after younger buyers," said Michelle Krebs, director of auto relations at AutoTrader Group. "And now that the recession is well behind us, conspicuous consumption is OK again."
In shifting down-market, the luxury executives are assuming that young buyers will eventually trade up to the brand's more stately rides, once they make partner or land the next round of venture capital funding. Selling cars, however, is a bit of a zero-sum game. The numbers suggest at least some of the luxury-car buyers that bit on the new, affordable models would have otherwise splurged on something more expensive.
While the German luxury titans chase thriftier customers, the rest of the luxury field continues to lag, with no signs of catching up soon. The difference is that the far-behind brands are already part of companies that do much more than luxury. Lincoln, for example, doesn't need to make a new, cheaper model if it wants to win younger buyers—Ford takes care of that. Cadillac has a less expensive cousin, Chevrolet, in the General Motors family.
Jeff Bracken, U.S. general manager for Lexus, said in a speech that he wouldn't be chasing his rivals "downstream." His coworkers at Toyota have long been focused on that segment. "There's certainly good volume below $30,000," Bracken said. "But there's nothing easy about this business. For Lexus to be truly a luxury division, we need think of ourselves above $30,000, not below it."
The German brands also need U.S. buyers in a way they haven't in a while, thanks to Europe's shaky economy. The euro's year-long swoon also means that BMW and Mercedes get nice profit pushes from customers paying with dollars.
Despite the downmarket strategy, the luxury car leaders have been more disciplined in their pricing this year. In the first 10 months of last year, the average incentive on a new BMW was $3,900, according to Edmunds.com. This year, by contrast, BMW has offered only $1,600 in what dealers call "cash on the hood." Mercedes cut its sweeteners from $3,200 per car to $2,100 over the same period. American-made luxury contenders have had to do more to entice buyers.

Pricing discipline could vanish quickly as the New Year approaches. The week between Christmas Day and Jan. 1 is widely considered one of the best times to get a deal on a luxury car, and bragging rights are on the line. "I've always thought it was kind of silly," said AutoTrader's Krebs. "But this is a big deal to these companies."