Canary Wharf Owner Gets Offer From Qatar, Brookfield
Patrick Gower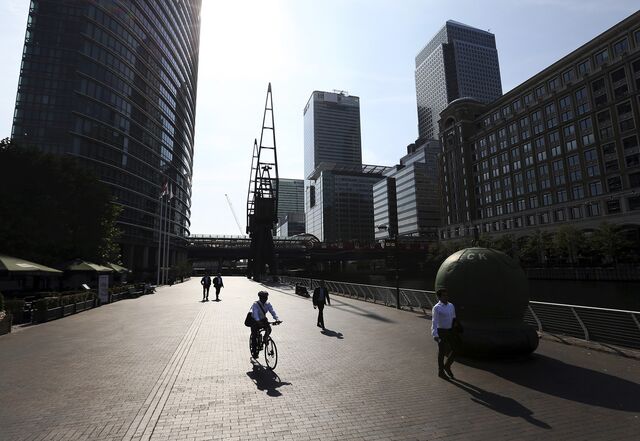 Qatar Investment Authority and Brookfield Property Partners LP increased their bid for London Canary Wharf owner Songbird Estates Plc, and the Qatar fund agreed to buy as much as 9 percent of Brookfield.
The companies offered 350 pence a share in cash for Songbird, they said in a statement today. That's 33.6 percent more than Songbird's closing share price on Nov. 5, the day before the initial bid was disclosed, and values the company at about 2.6 billion pounds ($4 billion). Songbird owns 69 percent of Canary Wharf Group Plc, which controls London's second-biggest financial district.
Buying Songbird would expand Qatar's London property portfolio, which includes stakes in the Shard skyscraper, Harrods department store and the Olympic Village. It would also allow the new owners to construct thousands of homes in London, the best-performing part of the U.K. residential market in the past five years.
The bid is the joint venture's final cash offer and can't be raised, the companies said, describing the price as "full and fair."
Songbird said on Nov. 7 that it might receive a bid of 295 pence a share from the Qatar fund and Brookfield, based in Hamilton, Bermuda. The U.K. company's real estate was valued at 6.28 billion pounds at the end of June.
Asset Value
After rejecting the initial offer, Songbird on Nov. 28 said it revalued its portfolio to give a net asset value of 381 pence a share, 9 percent higher than today's offer.
Third Avenue Management LLC, which owns 3.5 percent of Songbird, agreed to accept today's offer, the Qatar fund said in today's statement.
Brookfield issued $1.8 billion in exchangeable preferred equity shares to the Qatar sovereign-wealth fund, the company said in a separate statement today. The securities are exchangeable into Brookfield units at a price of $25.70.
Brookfield shares today fell 0.4 percent to $23.25.
The Songbird offer will be financed through equity contributions by both Brookfield and the Qatar fund to the joint venture Bidco. Each will provide 50 percent.
Canary Wharf Group controls development land for a further 9.8 million square feet (910,000 square meters) of property in and around the estate, including 3.3 million square feet of higher-value homes, Songbird said Nov. 28.
More than 100,000 people work in the 35 office buildings and four shopping malls on the Canary Wharf estate, which is home to companies ranging from JPMorgan Chase & Co. to Gap Inc. The district is best known for the 50-story tower at One Canada Square, the U.K.'s tallest building until the Shard was completed in 2010.
(An earlier version of this story was corrected to remove a reference to a rejection of the bid in the headline.)
Before it's here, it's on the Bloomberg Terminal.
LEARN MORE