Bonhams Selling a Space Watch, Blue Chip Patek Philippes in New York and London Auctions
By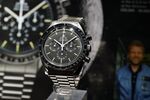 Next week Bonhams will host a pair of watch auctions in New York and London. In the mix there are plenty of modern watches that someone impulse-bought (and immediately regretted), historic pocket watches that probably belong in museums, and unremarkable vintage Rolex, the bread and butter of watch auctions. But there are also some real standouts peppered throughout the two catalogs, including an Omega Speedmaster owned by two European astronauts.
London
The most interesting watch in the 235-lot London catalog is lot 126, a 1978 Omega Speedmaster Professional chronograph originally owned by German astronaut Reinhard Furrer. After he died in 1995, his widow gave the watch to Dutch astronaut Wubbo Johannes Ockels, who served on the 1985 Challenger mission with Furrer. It's unclear whether either astronaut wore this particular watch aboard the space shuttle Challenger or how Furrer obtained the watch in the first place -- most were kept by NASA, serviced, and used again on later missions. The watch carries an estimate of $31,000 to $47,000.

Another highlight is a watch that couldn't be much more different than the NASA Speedy, a Patek Philippe "Officier" from 1925. It's diminutive (but totally wearable) at 31mm, made of yellow gold, and is held together with tiny gold screws that make it distinctive. The dial is pristine white enamel -- it's shocking to see an example in this condition, with no cracking on the dial to speak of. The relatively low estimate of $6,300 to $9,400 is likely due to the small size and niche nature of the watch, but you'd be hard pressed to buy a more historically significant and interesting dress watch for under $10,000.
Coincidentally, in the very same sale is a Patek Philippe Officier "Anniversary Edition" from 1989. This watch was produced to celebrate the brand's 150th anniversary and is a tribute to the 1920s original. Because it is a limited edition connected to the anniversary, its estimated price is more than $3,000 higher than that of the actual historic model.
New York
Confusingly, the first 156 lots of the New York auction are pocket watches and pendent watches. It's interesting to focus on this subgenre, but dedicating over half the auction to shelf-dwellers isn't going to garner much energy.

However, if you can make it past the first half (which is just enough time to get some of that Fifth Avenue holiday shopping done), there are some worthwhile wristwatches in the catalog too. The original IWC Portuguese was made from 1939 through the 40s in very limited numbers and you hardly ever see them for sale. While this one is far from perfect, it's still an all-original, intact example of a super rare watch. The $20,000 to $30,000 estimate certainly takes the condition into account and is less than half of what you might expect to pay for one that's pristine.

The ref. 3940 and ref. 3970 might be the two most iconic watches of Patek Philippe's modern era. The ref. 3940 perpetual calendar is what former Patek Philippe President and owner Philippe Stern wore on a daily basis and the ref. 3970 perpetual calendar chronograph was the standard bearer of Patek's high complication capabilities from 1986 though 2004. Quality examples of both in yellow gold are in the New York sale, with completely reasonable estimates. If you're looking for a blue-chip Patek, neither one of these would be a bad choice.
Before it's here, it's on the Bloomberg Terminal.
LEARN MORE