Australian Small Stocks Lose by Most on Record on Economy
Adam Haigh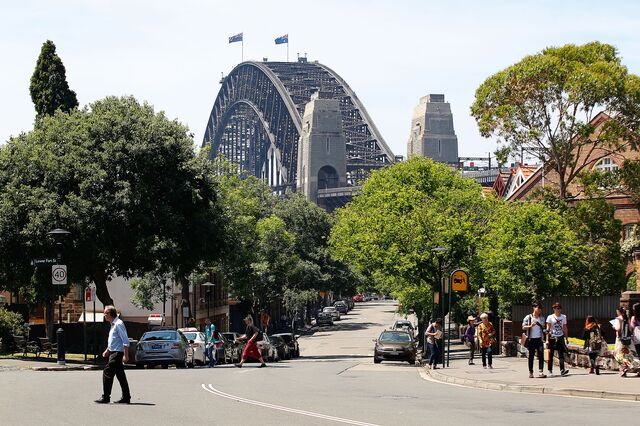 The bull market in global stocks has left Australia's smaller companies behind as investors shun consumer shares and businesses pay out less in dividends.
The S&P/ASX Small Ordinaries Index fell 2 percent in the past two years, compared with a 29 percent return on the S&P/ASX 200 Index of the country's largest listed firms and 39 percent on the MSCI World Small Cap Index. Consumer discretionary shares make up one quarter of the gauge of smaller Australia equities, the largest proportion. Financial companies, with a dividend yield of 6.3 percent, are nearly half the larger measure.
The divergence reached a record this month after a report showed pessimistic consumers outweighed optimists for the longest stretch in five years and as a commodity-price slump weighs on the economy. With pension savers putting the developed world's smallest proportion of their assets in bonds, Credit Suisse Group AG and UBS AG say investors will favor companies that provide income and shun those that can't.
"Small caps tend not to pay dividends, the consumer is still unhappy and that part of the market isn't doing well," said David McDonald, chief investment strategist for Credit Suisse's private banking and wealth management unit in Australia. "It's probably not going to change in the short term."
The average dividend yield on the S&P/ASX 200, the nation's benchmark measure, is 4.6 percent, some 17 percent higher than in the gauge of small companies, according to data compiled by Bloomberg. The best performing Australian stocks this year are health-care, utility and telecommunication shares, among the largest dividend payers.
The S&P/ASX 200 slipped 0.6 percent today in Sydney on trading volume 10 percent above the 30-day average, while the S&P/ASX Small Ords index fell 0.2 percent.
Global Rally
Whether large or small, the nation's equities are lagging behind a global rally. The S&P/ASX 200 gained 4.6 percent this year through yesterday, including reinvested dividends, compared with a 14 percent return on the Standard & Poor's 500 Index and 7.3 percent on the MSCI World Index of global developed shares.
Australia's economy unexpectedly slowed for a second straight quarter, a report showed Dec. 3, sending the currency to a four-year low. Unemployment remains at an 11-year high. The Reserve Bank of Australia has held interest rates at a record-low 2.5 percent since August 2013. Deutsche Bank AG said Dec. 2 that it expects another 50 basis points of reductions next year.
"The small-cap index typically does well when the economy is doing very well, which is not the case at the moment," said David Cassidy, Sydney-based equity strategist at UBS. "I have my doubts as to whether the economy is strong enough to support a rally in small caps."
Biggest Declines
Resources companies posted the largest declines in 2014 on the small-cap measure. BC Iron Ltd. and Atlas Iron Ltd., which make all their sales from production of the ore, slumped more than 85 percent. The steelmaking raw material fell 47 percent this year.
Liquefied Natural Gas Ltd. was the best performer on the measure, rising 958 percent through yesterday. The firm's market value in Sydney trading surged to A$1.4 billion from about A$100 million at the start of this year as it moves ahead with plans to develop the Magnolia LNG project in Louisiana.
The S&P/ASX Small Ords remained 12 percent below this year's high reached in September through yesterday. That brought valuations on the index to 16.6 times estimated earnings, down from a price-earnings ratio of 17.5 on Sept. 3, according to data compiled by Bloomberg.
"We view the recent correction as a potential buying opportunity with more attractive valuations," said David Stevens, Melbourne-based chief investment officer of Contango Asset Management Ltd.
Dividend Focus
Companies listed in Sydney have historically paid out more on average to investors than U.S. firms. A tax incentive known as franking credits reduces shareholders' tax bills by recognizing that the company has already paid a levy on its profits.
"When the growth environment is tenuous, small caps will either sink or swim," said Olivia Engel, a money manager at State Street Global Advisors, which has $2.4 trillion in assets under management. "They just haven't that buffer to sustain themselves in a low growth environment."
Before it's here, it's on the Bloomberg Terminal.
LEARN MORE