The Newest Amazon Gizmos: Diapers and Baby Wipes
By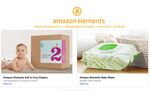 Amazon.com is justifiably famous for its ambition and its audacious entry into just about every category of products and services on planet Earth. In just the past few weeks, it has started making dongles that wirelessly connect your TV to the Web, a couple of new TV shows, and a futuristic music-playing cylinder that listens to nearby conversations and responds to spoken requests.
Now, on the opposite end of the spectrum, the company has announced it will start producing its own diapers and baby wipes under its own brand, Amazon Elements.
Amazon's new line of products will be inexpensive and targeted at parents who spend time thinking about the unsettling fact that their child's soiled disposable diaper will remain intact in a landfill for up to 500 years. The products, which are available only to members of its $99-a-year Prime subscription service, will offer information to customers that includes the materials in the product and where they were sourced. The diapers are being manufactured by the family-owned Canadian company Irving Personal Care, according to Amazon spokeswoman Pia Arthur. Baby wipes under the Elements brand are being made by Nice-Pak Products.
This isn't the first time Amazon has moved into the private-label business. In 2004 it started producing such stuff as bedsheets and outdoor furniture under brand names (Pinzon and Strathwood) that sounded like they were pulled from a cheesy romance novel. Amazon followed in 2009 by making TV cables under the Amazon Basics name.
The moves showed that Amazon was starting to behave more like a normal retailer. Most big stores sell private-label goods as a way to capture more margin on high-volume items or to create popular loss leaders that can deepen the company's relationship with its customers.
Now Amazon is expanding its private-label initiative as it expands its consumables business in various ways—through its subscribe-and-save program, for example, and the gradual expansion of its Amazon Fresh next-day delivery service for groceries.
As usual, there are two ways to interpret this move: as a service its customers have requested and will value, and as a blunt strategic maneuver against its own giant suppliers—in this case, Procter & Gamble and Kimberly Clark.
First, the friendly view. Amazon says its customers have been asking for an environmentally conscious diaper that comes in bulk and protects their children, and Amazon didn't see it on the market. In a YouTube video, Amazon shows how customers can use their smartphone and Amazon app to scan stickers on an Element product and learn why and when each ingredient was included. "This is way more information than you get from the side of the box," says the narrator.
Now here's the other interpretation. As the volume of Amazon sales has increased and the company has tried to claw back margin to improve its notoriously emaciated bottom line, it has started to demand the same terms from its suppliers that such giants as Wal-Mart Stores and Costco Wholesale do. Companies such as Procter & Gamble and Kimberly Clarke find themselves squeezed like lemons, with no more margin left to give.
And as we have seen again and again, when Amazon doesn't get the economic conditions from suppliers that it seeks, it simply goes its own way. In the book business, that has meant publishing its own titles under the various Kindle imprints. Now it's making diapers.
It's worth noting that Amazon isn't the first retailer to go here: Wal-Mart, Costco, and Walgreen all stick private labels on their own diapers as well. Judging by a few unfavorable early reviews of its diapers brand, Amazon might still have some work to do to catch up.
Before it's here, it's on the Bloomberg Terminal.
LEARN MORE