Allianz to L&G Pledge $14.1 Billion for U.K. Projects
Sarah Jones and Luca Casiraghi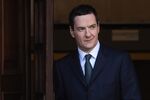 U.K. asset managers including Allianz Global Investors plan to invest 9 billion pounds ($14.1 billion) in companies and infrastructure projects after the government eased tax rules for the private-placement market.
Units of Allianz, Aviva Plc, Friends Life Group Plc, Legal & General Group Plc, Prudential Plc and Standard Life Plc are planning to invest the money in private placements and other company loans over the next five years, the Investment Management Association said in a statement today.
Chancellor of the Exchequer George Osborne yesterday announced an exemption from withholding tax for interest on private placements, a form of long-term, non-bank debt financing. Insurers and pension funds are increasingly looking to direct lending as they seek to match their long-term liabilities with assets that generate higher yields.
"This measure is a significant boost to the development of the U.K. private-placement market, unlocking crucial capital for U.K. business," IMA Chief Executive Officer Daniel Godfrey said in the statement. "The IMA's members are major investors in U.K. businesses and infrastructure."
The 9 billion-pound pledge signals the "potential beginnings of an enduring private-placement market" in the U.K, Osborne said in a statement today.
The measures on withholding tax "will increase competition among lenders, increase business for companies which could borrow from more sources, and could have a kickstart effect on the whole U.K. economy," said Peita Menon, a partner at White & Case LLP, who advised the government on the measures along with counsel Prabhu Narasimhan.
The lawyers are still working with the government in their development of this new legislation, including on the precise definition of private-placement debt, Menon and Narasimhan said in an interview.
Before it's here, it's on the Bloomberg Terminal.
LEARN MORE