Want to Buy a Crocodile? One Could Be Yours for Just $1,100
Tshepiso Mokhema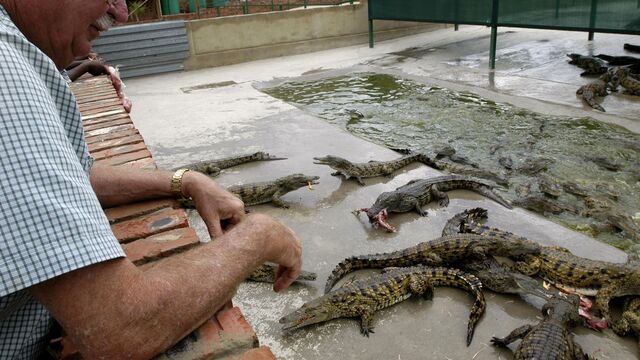 South Africa's first live crocodile auction has set benchmark prices for the carnivorous reptiles, bringing transparency to an industry where animals are usually traded privately.
The auction, which took place at Wartburg in the southeastern KwaZulu-Natal province last month, saw 8,300 of the 8,600 Nile crocodiles on offer sold, said Neil Pentolfe, one of the owners of auction organizers Southern African Crocodile Traders, in an e-mailed response to questions last week.
Sub-adults, a term for crocodiles aged between seven and 10 years and weighing as much as 200 kilograms (440 pounds), were the group where young breeders were sold for $1,100 while 10-month old crocodiles cost $75. Buyers also agreed to purchase crocodiles that will hatch from incubated eggs early next year as well as reptiles of various other ages.
"This live crocodile sale is probably the first of its kind in the world," Pentolfe said. "It was a well-planned sale to set bench marks for live animal values in the crocodile industry in South Africa."
Crocodiles are bred for their skins, which are used to make goods ranging from shoes to belts, and meat. Nile crocodiles are predominantly bred in Zambia, Zimbabwe, Mozambique and South Africa.
The region exports about 250,000 skins a year and 80,000 of these come from South Africa at a market value of about $20 million to $25 million, said Stefan van As, a former investment banker and now the owner of South Africa's Le Croc crocodile breeding farm and tannery.
20-Feet
South African crocodile farms breed Nile crocodiles, the species of the reptile most commonly found in Africa. Nile crocodiles can grow to a length of six meters (20 feet) and weigh as much as 900 kilograms, according to the website of England's Crocodiles of The World conservation and education center.
"From an industry participant point of view, I think it is a positive development," van As said in a phone interview. "It's a transparent process of determining value for live crocodiles and historically it was very difficult to determine because a lot of transactions took place privately."
Pentolfe's company expects to have 120,000 crocodiles by the middle of next year.
Saltwater crocodiles, found in Australia, are the biggest type of crocodiles, reaching as long as 23 feet. At least 13 species of crocodiles and alligators are farmed, according to International Union For The Conservation of Nature data.
Before it's here, it's on the Bloomberg Terminal.
LEARN MORE