Russia ETF Rush Halted as Kremlin Faces Recession
Elena Popina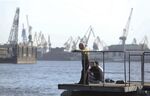 Investors who piled into the biggest exchange-traded fund tracking Russian stocks at a record pace last month have started pulling out as the government acknowledged that the country is headed toward a recession.
Traders withdrew $22.7 million from the Market Vectors Russia ETF on Dec. 2, the biggest outflow since mid-July, data compiled by Bloomberg show. The redemptions were the first since August and came about two weeks after the number of shares outstanding in the fund touched all-time high of 99.3 million.
Sentiment is shifting as the Economy Ministry said Dec. 2 that gross domestic product may shrink 0.8 percent next year, compared with a previous forecast for 1.2 percent growth. It would be Russia's first recession since 2009. The revised outlook shows the impact of tumbling oil prices and the plunging ruble on an economy already squeezed by international sanctions linked to the Ukraine conflict.
"Investors weighed in the risk that as economic growth will shrink, so will the growth in the Russian companies in which they invest, so they pulled out the money to prevent losses," Oleg Popov, a portfolio manager who helps oversee $1 billion at Allianz Investments, said by phone from Moscow yesterday.
Shares in the fund rose 2 percent to $19.17 in New York yesterday, reducing this year's decline to 34 percent. This week's redemptions were the first since Aug. 7. The fund's assets had been swelling amid speculation that Russian stocks, the cheapest in emerging markets, would recover as tension over Ukraine eases. The U.S. and its allies have imposed financing restrictions and other sanctions to punish Russia for stoking the conflict, a claim President Vladimir Putin denies.
'Horrible' Investment
"Investing in the ETF now is a horrible way of investing in Russia," Ian Hague, founding partner at New York-based Firebird Management LLC, which oversees about $1.1 billion including Russian stocks, said by phone yesterday. "This ETF got hit more than the Russian market in general, as a big component of the fund is sanctioned companies, and they were the ones to get hit by all the problems Russia is experiencing right now the hardest."
Herman Gref, chief executive officer of OAO Sberbank, a state-controlled lender targeted by sanctions, said last month the Russian economy will contract 1.2 percent in 2015. The central bank said in November that it expects sanctions imposed by the U.S. and the European Union on Russian companies and individuals to last through 2017.
Ruble Plunge
The economy may shrink as much as 5 percent next year if sanctions are extended beyond 2015 and Russian companies continue to be locked out of U.S. and European markets for financing, Uralsib Financial Corp. analysts including Alexei Devyatov wrote in a research note yesterday.
The ruble touched a record low for a fifth day as a gauge of business activity fell more than forecast. It rebounded to gain 1.2 percent to 53.1905 per dollar amid speculation the Bank of Russia intervened after a 16 percent depreciation in six days, the most since the 1998 default. The currency has plunged 38 percent this year, the worst performance in emerging markets.
Oil, which is Russia's top export and along with natural gas accounts for about half its budget revenue, has collapsed into a bear market amid high global production and signs of slowing demand growth. OPEC last week resisted calls from some members to reduce output. Brent crude for January settlement fell 0.9 percent to $69.92 a barrel yesterday, the lowest since May 2010.
The Bloomberg index of the most-traded Russian stocks in the U.S. added 1.3 percent to 65.12, reducing the decline this year to 36 percent. Futures contracts on the dollar-denominated RTS index expiring in December fell 0.5 percent to 94,430 in U.S. hours.
Moscow-based United Co. Rusal, the world's biggest aluminum producer, jumped 5 percent to HK$5.88 at 10:47 a.m. in Hong Kong, heading for the first advance in six days.
Before it's here, it's on the Bloomberg Terminal.
LEARN MORE