Oil Rout Is Boon for Japan Stocks Easing Recession Sting
Yuko Takeo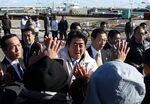 Stock investors waiting for Prime Minister Shinzo Abe to figure out how to end Japan's latest recession got an unexpected boost from 5,689 miles away.
The Topix index rallied 2.6 percent through yesterday since OPEC members decided at a meeting in Vienna on Nov. 27 to resist calls to cut oil output, sending crude tumbling. Two days into December, Japanese shares were the second-best performers among 24 developed markets tracked by Bloomberg on prospects cheaper oil will aid a nation that imports almost all its energy.
As Abe prepares for parliamentary elections, the fall eases the burden on voters squeezed by falling real incomes and a higher sales tax. With Bank of Japan Governor Haruhiko Kuroda pumping unprecedented amounts of money into the economy in a bid to achieve 2 percent inflation, the decline takes him further from his goal and raises the possibility of further stimulus, which would also boost stocks.
"It's an unexpected piece of luck at a time when domestic demand is slackening," Kiyoshi Ishigane, Tokyo-based chief strategist at Mitsubishi UFJ Asset Management Co., said in a phone interview from Tokyo on Dec. 1. "It's like a sweet rice cake falling from the shelf."
The Topix rose 1.2 percent in December through yesterday, second only to Greece's 2.9 percent advance among developed markets tracked by Bloomberg, and its 5.8 percent gain in November was the largest since September 2013. West Texas Intermediate contracts tumbled 32 percent this year through yesterday as U.S. shale added to supplies and a slowdown in China weighed on demand. They fell 17 percent since the start of November.
Airlines, Shippers
Airlines and shippers, which together account for about 1 percent of the Topix, benefit from the decline in oil as it reduces fuel costs. The Topix Air Transport Index has surged 11 percent since Nov. 28 for the biggest advance among the industry groups, extending its rally this year to 41 percent. A group tracking shipping companies jumped 6 percent for the second-largest gain.
Carmakers, set to benefit from consumers' increased purchasing power in Japan and overseas, have added 4.6 percent, buoyed also by a weakening yen. Utilities, which make up 2.1 percent of the broader measure, have climbed 3.5 percent as their import costs decrease.
"Cheaper oil is a plus for the nation's equities, as the money saved by the public will show up elsewhere," said Hideyuki Suzuki, general manager of investment-market research at SBI Securities Co. "It'll support consumption as people pay less for heating costs in Japan's colder regions. And it may also lead to further easing."
Consumption Tax
Japan unexpectedly slipped into recession last quarter as consumers struggled after a consumption tax was raised to 8 percent from 5 percent in April. Wages adjusted for inflation fell 2.8 percent in October from a year earlier, the 16th straight monthly drop, according to labor ministry data.
A report last week showed households cut spending for a seventh month. Consumer prices excluding fresh food, the BOJ's key measure of inflation, rose 0.9 percent in October from a year earlier when stripped of the effects of the sales levy.
Almost all Japan's energy is imported since the Fukushima meltdowns of March 2011 shuttered the nation's nuclear reactors. The drop in the oil price will feed through to costs for everything from electricity and gasoline to home heating.
"Domestic electricity prices will fall, and natural gas prices should as well," said Mitsubishi UFJ Asset's Ishigane. "Prices could drop 30-40 percent and be a major support for the economy."
Abe Election
Japan voters go to the polls on Dec. 14, with about 37 percent of respondents in an Asahi newspaper poll on Dec. 1 saying Abe's economic policies had been a success and 30 percent saying they weren't.
Strategists and investors surveyed by Bloomberg over the past week don't expect the oil decline to send Japanese equities much higher in 2014. The median forecast for the Topix at year-end in the latest survey has dropped to 1,450 from 1,475 in the previous one last month. That's an increase of 1.6 percent from yesterday's close of 1,427.85.
The fall in crude prices is at odds with the goals of BOJ Governor Kuroda. The central bank unexpectedly added to its bond-buying program on Oct. 31, with Kuroda citing the decline in crude as a reason for the decision. With wages stagnant, much of the onus for achieving Kuroda's inflation goal is falling on import costs, so an oil slump undercuts the efforts.
"More BOJ easing could be on the table," Tatsushi Maeno, head of Japanese equities at Pinebridge Investments Japan Co., said by phone on Dec. 2. "I think Mr. Kuroda is strongly determined to reach his 2 percent goal."
Before it's here, it's on the Bloomberg Terminal.
LEARN MORE