No More Touching Is New Religious Edict in Ebola Hot Zone
Makiko Kitamura and Silas Gbandia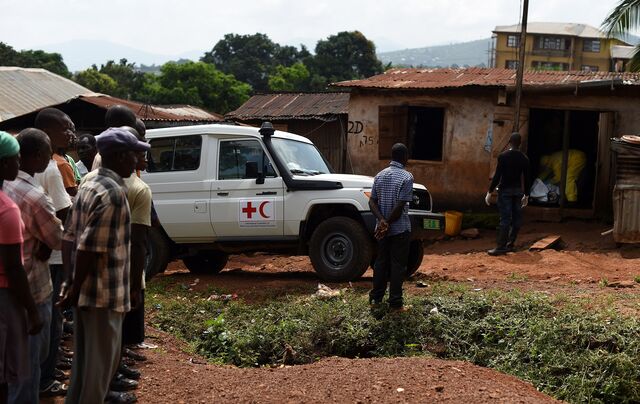 Sheik Ahmed Sesay grew up convinced that touching and washing was essential to grant the dead a peaceful passage into the next life.
But lately, Sesay has been meeting with other religious leaders here in Sierra Leone's mountainous Koinadugu district to explain why they should reconsider ancestral funeral rites. The imam travels potholed roads on his motorcycle to share one of the crucial lessons Ebola has taught him: to stay alive, his community must change the way they treat their dead.
Aid groups such as the Red Cross seeking to stem the transmission -- at the height of the epidemic, almost two-thirds of infections could be traced back to funerals -- are struggling to change centuries-old customs. After some early attempts to enforce safe burials backfired, the World Health Organization and Doctors Without Borders enlisted anthropologists and religious groups to help devise guidelines that retain the spiritual message of local traditions while rooting out physical contact. Preserving the devotional aspect was key for Sesay.
"Burying people without prayers is like dumping the remains of a dog in a hole," the 62-year-old imam, sporting a traditional green tunic with swirling motifs and a knitted hat, said in an interview inside a cavernous mosque in Kabala, Koinadugu's capital. "It is important that Ebola corpses are buried safely and in dignity. We are impressed with the training Red Cross is offering its volunteers."
Radio Message
Koinadugu is now among the hotbeds of Ebola contagion in West Africa. In this rain-forested area, where palm tree trunks serve as bridges and women washing laundry wave at passing vehicles, Radio Bintumani on FM 93.7 is the major source of information on the lethal virus and its progression.
Both Muslim and Christian leaders have started making regular appearances on the radio to press for change, but not everyone is as receptive as Sesay.
"Traditions are deeply rooted in Sierra Leone," said Lisa Pattison, a spokeswoman for the local Red Cross effort. "The Red Cross continues to work with religious and community leaders in order to persuade communities to accept safe and dignified burials. For the most part, it is working."
The Red Cross is meeting resistance in Waterloo, just east of Freetown, according to Pattison. In the capital, the government plans to start a 14-day house-to-house search because "people are hiding the sick in their homes and continue to wash bodies and bury them at night," Brima Kargbo, the country's chief medical officer, said on Dec. 1.
Night Vigil
Progress is crucial. More than 1,400 people have been infected in Sierra Leone in the past three weeks, and the total number of infections is on track to eclipse that of Liberia, the worst-affected country so far, according to the WHO. At least 1,400 have died since December.
Ebola sufferers are highly contagious at the time of death, when the body risks releasing infected bodily secretions. A single funeral in May, where crowds gathered to bid farewell to a respected traditional healer, was linked to as many as 365 deaths. At least 20 percent of infections could still be traced to unsafe burials in the three West African countries battling the outbreak last month, compared with an estimated 60 percent in August.
Loving and Caring
Ebola first reached Koinadugu, a lush mountainous district near Sierra Leone's border with Guinea where Islam is the dominant religion, in late October. Traditionally, Muslim community elders have performed funeral rites that involved washing the corpse with lukewarm water and a cloth, tying both thumbs together as well as the big toes, wrapping the body in a white cotton shroud, and perfuming it. During the night vigil, the family would sit around the body, and some would touch it as they sang songs and recited portions of the Koran, according to Sesay.
In some parts of the country, if the deceased was an Islamic scholar, the water used to wash the body was collected and young boys were told to wash their faces with it.
Christians also wash the body, dress it in a suit or clothing picked by the family, and place it in a coffin, said Sesay, who attended Catholic school and heads Koinadugu's interreligious council.
"This disease is attacking the very best of their culture -- the loving and caring aspects," said Patricia Omidian, a medical anthropologist who advised the WHO's Ebola response effort.
The WHO contacted Omidian in May, asking for her help to better understand how local practices might help or hinder the spread of disease as well as cultural attitudes toward Ebola. Assisted by two local graduate students, she spent more than two weeks in August interviewing communities in Montserrado, Margibi and Bong Counties in Liberia.
No Cremations
They found that some of the most heated debates were around burials and cremation, something that "is not in the traditions at all," according to Christopher Stokes, who coordinates Doctors Without Borders' Ebola response from Brussels. The aid group has faced hostility for its decision to incinerate bodies when it lacked the land for burials.
Omidian and her team advised involving religious and community leaders in a 19-page document summarizing their findings. The WHO heeded their recommendations, and consulted the World Council of Churches, World Vision and Islamic Relief before drafting a protocol for funerals.
"It became clear that specific guidance was needed to bring those involved in different aspects of burials to come together to mitigate the distress and, at times rejection, that was being seen in communities," said Laura Bellinger, a spokeswoman for the Geneva-based organization.
Dry Ablution
The burial guidelines published last month reflect that consultation process.
The WHO recommends that instead of using water to wash the body, a dry ablution is performed by a burial team member suited in head-to-toe protective gear. For Muslims, this could involve striking their hands on clean sand or stone and then gently passing over the deceased's hands and face, followed by a short prayer.
While the burial teams must use protective clothing while handling Ebola corpses, the guidelines state that they shouldn't wear the suits upon arrival when greeting family members and offering condolences, to avoid frightening them. And they should contact a local religious leader to be present for the burial.
"The important thing was to listen," said Sally Smith, community mobilization adviser for faith-based organizations at UNAIDS working with the WHO on the Ebola response. "It's really essential to engage the community."
Sticks and Leaves
Once the burial team has closed the body bag, family members and a priest or imam are permitted to gather at the grave site for prayers and cover the grave with earth. In Koinadugu, sticks and leaves are placed as a shielding layer between the body and earth, said John Marah, a Red Cross volunteer heading the local burial team in Neini, one of the district's chiefdoms.
Before his team arrives, a separate Red Cross volunteer visits the family to carefully explain the procedure and answer any questions. As a result, there has been no resistance to the new methods of burial around Neini, according to Marah.
In Neini, a chiefdom of 50,000 supported by rice and pepper farming where Koinadugu's first Ebola cases were reported, Chief Foday Jalloh has been the point person for the WHO, Red Cross and the U.S. Centers for Disease Control and Prevention. Jalloh, 46, has in turn tasked other elders and sub-chiefs to communicate the importance of safe burials.
Changing Tradition
"Some at first wanted to disagree, but as the number of confirmed cases kept increasing, they accepted," said Jalloh, wearing a cream-colored hand-woven ceremonial dress and hat inherited from his chieftain ancestors.
Sesay, the chief imam in Kabala, has also met with his counterparts in Neini to make sure they pass along the message that there should be no washing or touching of dead bodies.
While the work of the 8,000 Red Cross volunteers and improved communication on safe burials have helped curb dangerous practices, deeply rooted traditions are proving hard to snuff out entirely.
"Getting your people who for centuries have been steeped in those cultural practices to abandon those practices overnight is one of the challenges we have been facing," said Alpha Kanu, Sierra Leone's minister of information and communications. "The culture of denial has been reducing, but the culture of continuing with traditional practices is still very much a challenge."
Before it's here, it's on the Bloomberg Terminal.
LEARN MORE