Netanyahu Defeat Seen by Lapid as Israel Sets March Election
Calev Ben-David and Jonathan Ferziger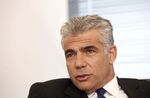 Israel's outgoing finance minister Yair Lapid predicted that the man who fired him, Prime Minister Benjamin Netanyahu, will be forced from office as a result of the early election he called this week.
Polls indicate the March 17 ballot will lead to a fourth term for Netanyahu and leave him able to form a new government more hawkish on peacemaking with Palestinians. The contest was triggered this week when the premier fired Lapid and Justice Minister Tzipi Livni for opposing his administration's policies.
Lapid, in a Tel Aviv press conference late yesterday, described Netanyahu as "out of touch" with Israeli voters, and blamed the Likud leader for harming Israel's relationship with the U.S. through "patronizing and insulting behavior." In his farewell address at the finance ministry today, Lapid said the treasury "cannot go back to the bad days when you could see political fingerprints in every corner of the office."
Minister of Intelligence and Strategic Affairs Yuval Steinitz, a Netanyahu ally, told Israel Radio today that Lapid's tenure at the treasury had "caused damage" to the economy. Steinitz cited slowing growth and last month's Fitch downgrade of Israel's debt outlook to attack Lapid's record as finance minister.
'Large and Experienced'
Netanyahu decided to disband his bickering, 20-month-old coalition as Israel struggles with a slowing economy and escalating Palestinian violence after the collapse of peace talks. Members had been at odds from the start, with conflicting views on issues ranging from peacemaking to housing. The prime minister's latest clashes with Lapid and Livni were over the budget and proposals to anchor Israel's Jewish status in law.
Israel's parliament, or Knesset, agreed unanimously to dissolve the legislature in an initial vote yesterday, and speaker Yuli Edelstein announced the election date after meeting party leaders. A final vote that will formally start the election process is due on Dec. 8, according to Israel Radio.
With nine years in office over three non-consecutive terms, Netanyahu has served longer than any leader except Israel's first premier, David Ben-Gurion. He told lawmakers from his group yesterday that Likud is "the only party that should be taken into account," and said Israel needs "a large and experienced ruling party."
Livni told her Hatenuah party that the prime minister is "afraid of his ministers, even more afraid of the outside world."
Tougher Line
Livni and Lapid represented the centrist wing of the coalition, with Netanyahu's other partners taking a tougher line on peace with the Palestinians.
Among them is Jewish Home, which opposes a Palestinian state. A survey commissioned by Israel's Channel 10 television predicted it would be among the winners if elections were held now, while Lapid and Livni's factions would lose ground.
The poll of 500 Israelis showed Likud winning 22 seats in the 120-member Knesset, a slight rise from its current tally, while Jewish Home would advance to 17 seats from 12. By contrast, Yesh Atid would drop to nine seats from 19 and Hatenuah to four from six. The survey had a margin of error of 4.5 percentage points.
Election Impact
The shekel was little changed yesterday at 3.978 per dollar, after sliding almost 3 percent in the previous week amid the political turmoil.
Last month, Fitch Ratings lowered Israel's debt outlook to stable from positive, citing the fiscal effect of Israel's war with Gaza Strip militants in July and August, and political risks from the stagnation of peace efforts. The economy shrank in the third quarter, though policy makers have predicted a return to growth in the current one.
Analysts have warned that early elections may hurt the economy, as the budget process will be frozen while the country heads to elections, and government spending will be carried out on the basis of the current year's plan.
Before it's here, it's on the Bloomberg Terminal.
LEARN MORE