Mexican Chef Says She's Fed Up With Tex-Mex: Bring on the Chiles
By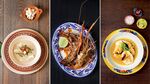 Chef Margarita Carrillo Arronte is frustrated.

She considers the cuisine of her native Mexico to be among the world's finest. Yet everywhere she goes, people talk to her about Tex-Mex food and peppers that blow a hole in your tongue.
"People have this wrong idea that Mexican cuisine is cheap, oily, fattening, spicy, and so hot it burns your mouth," she says in an interview in London. "Real Mexican food is refined, the flavors are elegant. It's a very nourishing cuisine."
Carrillo Arronte, whose restaurants include Don Emiliano (San Jose del Cabo, Mexico) and Casa Mexico (Mexico City), is touring the world to promote "Mexico, the Cookbook." The new book features 700 recipes, from tortillas to rabbit in prune and chili sauce, not to mention pumpkin seed fudge.
"I feel very frustrated by the image of Mexican food," she says. "It's why I started to travel, and I thank God for the opportunity to spread the word. I used to get angry. Not anymore. I just feel sad, and I tell people they are wrong and, whenever I can, I invite them to taste the food in the correct places. The best Mexican food is in the homes. Most people's experience is in Tex-Mex restaurants, which is not Mexican.
Delicious Diversity
"Mexican food is so diverse, we shouldn't even say Mexican cuisine. It's Mexican cuisines, because we are a large country and the different regions have different styles because of the geographical characteristics, and also the indigenous peoples that live in this certain areas cook in different ways.
"Our cuisine is completely mingled with our culture and our religion. We are a Catholic country and with all the social events, we have a dish for every occasion. We Mexicans just need a small excuse to get together and have a party."
Carrillo Arronte was a student in London in the early 1970s, living in a hostel run by nuns and eating heavy food that made her pile on weight. She missed Mexican food so much, she even tried a restaurant called El Sombrero. One can only guess what a Mexican venue in London might have been in those days.
She smiles and says she hears things are better, mentioning Thomasina Miers, the chef behind Wahaca restaurants.

¿Viva Peru?
In London these days, much of the buzz is around Peruvian cuisine rather than Mexican. Does that trouble her?
"I'm very glad that another cuisine like Peruvian, which I like and respect very much, is coming in fashion," she says. "But you have to understand that Mexican food for many years has been taken out from Mexico by foreigners, and they have opened so-called Mexican restaurants all over the world. And what they cook is Tex-Mex.
"But Peruvian food had never been out, and now the Peruvian food that is going out has passed through the hands of chefs like Gaston Acurio, who has selected or refined it, and they have very important support from the government. Peruvian food is very good, but the phenomenon is completely different."
Tacos L.A.
Carrillo Arronte misses Mexican cuisine when she travels, none more so when she was traveling the U.S. recently.
"In L.A. it was 2 a.m. and I was starving and I asked the lady who was escorting me, 'Please I need to eat something.' After two weeks I needed a real taco. And she took me to a little place, a hole in the wall called Tacos Mexico, where I had tacos exactly the same as in Mexico.
"I couldn't believe it. Exactly the same: no fat, no frying, the sauce was authentic, the meat cooked in the same steamed way, delicious. And they took credit cards. In Mexico, when you find these little places, they don't take cards."
To whet your appetite, are a couple of simple recipes from courtesy of Chef Carrillo Arronte.
Easy Recipes

Hot Chocolate (Chocolate con Leche)

3 1/2 oz/100g dark Mexican chocolate, chopped

6 1/4 cups (50 fl oz/1.5 liters) milk

1 cinnamon stick (optional)

Put the chocolate into a saucepan, add the milk and cinnamon stick, and heat gently, stirring until the chocolate has melted. As the mixture begins to bubble in the pan, reduce the heat and simmer for a few minutes. Transfer 1 cup (9 fl oz/250 ml) of the chocolate to a bowl and whisk with an electric mixer until it is foamy, then pour into a mug. Whisk and pour the remaining chocolate milk in the same way.
Serve immediately.

Raw Tomato Salsa (Salsa Roja de Tomate Cruda)
3 tomatoes, finely chopped

2 tablespoons finely chopped onion

5 green serrano chilis, seeded and finely chopped

6 tablespoons cilantro (coriander), finely chopped

sea salt

Combine the tomatoes, onion, chilis, and cilantro (coriander) in a small bowl and season with salt to taste. Serve with meat, fish, or poultry, or with tacos. Note: This salsa may also be processed in a food processor or blender, but reserve the cilantro to sprinkle over it when serving.
"Mexico, the Cookbook" is published by Phaidon. It is listed at 29.95 pounds in the U.K. and $49.95 in the U.S.
(Richard Vines is the chief food critic for Bloomberg. Follow him on Twitter @richardvines)
Before it's here, it's on the Bloomberg Terminal.
LEARN MORE