Mary Landrieu's Closing Message: Bill Cassidy Will be Subpoenaed if He Wins
Louisiana's senator tries to turn the race into a scandal referendum.
By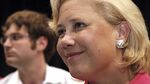 NEW ROADS, La. — If Senator Mary Landrieu defies the polls, the ads, the local wags, and the national grave-diggers to win a fourth term this week, she will have The American Zombie to thank. On Nov. 25, surely before early voting ended in the runoff, the Alexandria-based blog published "a dossier on current U.S. Representative for Louisiana's 6th district, Dr. Bill Cassidy, that called into question his tenure and billing practices to LSU's Health and Sciences Center." Bloggers Jason Berry and Lamar White published a sheaf of documents related to the congressman's ongoing role at the college hospital.
"What's really interesting is that he told the House Ethics Committee that he was only working for LSUHSC for 16 hours a month/4 hours a week," they wrote, "but he billed LSUHSC for 'roughly' 30 hours a month/7.5 hours a week."
The story did not exactly explode across the political media. Louisiana papers reported on it, journalists (this one included) made calls and tried to prove/debunk/advance the story, but Thanksgiving was coming. Cassidy's approach to media questions, which resembles Thomas Pynchon's policy toward autograph-seekers, assured that the story did not become a he said/he said. The LSU tale did not go viral the way that, say, Landrieu's botched (and later fixed) billing of some flights went viral.
So Landrieu went to work. She challenged Cassidy to prove the story wrong with his own documentation. On the morning of Dec. 1 she held a Baton Rouge press conference about the story, and that night, at her sole mano-a-mano debate with Cassidy, she focused as much as she could on it. (Cassidy deflected the questions and brought up her plane gaffe or President Obama.)
The senator hit the trail—and has spent a considerable amount of every public appearance hammering Cassidy and challenging the media to nail the guy already. In a Tuesday morning rally in the New Orleans suburb of Gretna, Landrieu predicted that Cassidy would be facing "subpoenas" if he won the election.
"We know he's hiding because he had a special deal," she said, "a deal where he got anywhere from $20,000 to $50,000 for work he never did. He cut a deal with one of our public hospital that is unethical, possibly illegal, and undisclosed." Her aides passed out folders of documents, delineating the days that Cassidy allegedly worked at LSU and filled his schedule in Washington.
"We have him on video at a committee meeting in Washington," she said. "Unless he has a twin or a man that stands in for him..." 
The allegations mounted. Landrieu pointed to some of Cassidy's timesheets, and said that "on the 16 that he has, he has not signed six of them. Of the ones that are signed, even a kindergartener could tell the signature is different on every one. Now that, ladies and gentlemen, could be payroll fraud." She waved at the half-dozen reporters, there to cover her.
"These reporters have these records," said Landrieu. "They have a difficult time reading them sometimes."
When the event ended, Landrieu huddled with reporters and asked them, face to face, if they'd read the documents. "Be honest," she said. Over six minutes, she retold the details of the story, challenging reporters to follow the story or name another member of Congress who got away with such off-the-job work and benefits.
"It's the height of hypocrisy that he's also been so arrogant and belligerent, beating up on  other people for entitlements," she said. "Here he is, the king of entitlements."
Two hours later, Landrieu appeared at an airfield in the town of Hammond, on the other side of Lake Pontchartrain. Local officials, of both parties, thanked her for the just-completed air control tower. Landrieu took the mic, and soon got into the story of the week.
"He's not been a doctor serving the poor," she said of Cassidy. "He's been a doctor serving himself to an extra paycheck of almost $50,000 in value. Twenty thousand in salary, almost $25,000 in benefits, including payments to his medical malpractice. In the real world, it will be called payroll fraud."
In interviews after the event, Landrieu deftly turned questions from the expected "whither Southern Democrats?" content to the story of Cassidy's LSU work. She did the same at day's end, in Baton Rouge, outside city hall. Retired Senator John Breaux told a hundred-odd Landrieu voters that he was "seeing a change" in the electorate, and that the LSU story was sinking in. When he and she wrapped, I asked a question about the declining Ebola panic. (It had been cresting when I last covered the race and talked to Landrieu.)
"It's kind of interesting that that was the biggest issue before election day, and now, after election day, it's gone away according to the national press," she said. Then she started talking about the rehabilitation of the city of Baton Rouge, then the issue that the press need to be covering.
"A congressman, who is also a doctor, who has been double dipping at taxpayer expense, collecting over $50,000—we think—a year, in both salary and benefits, for a job he didn't do," she said.