Iowa Republican Party Leaders Sign Neutrality Pledge for 2016
The move formalizes a tradition that both Democratic and Republican party leaders have maintained in previous election cycles.
By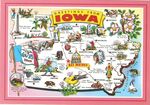 Give me your Pauls, your Christies, your angry Cruzes yearning to breathe free. Okay, that's not exactly the opening line of the a new Republican Party of Iowa pledge, but the sentiment engraved in the Statue of Liberty is the same: All are welcome in the first presidential caucus state.   
In an effort to assure prospective candidates that they'll get a fair shot in 2016, the party said Wednesday that its leadership board has signed a pledge to remain neutral in the Iowa caucus process, formalizing a tradition that both Democratic and Republican party leaders have generally maintained in previous election cycles. "No member of the Republican Party of Iowa State Central Committee, its Officers, or its Staff shall publicly endorse a U.S. Presidential Candidate during the 2016 Iowa Caucuses," the pledge states. 
The pledge is "unprecedented and is intended to send a clear signal to potential presidential candidates: all are welcome in Iowa, and the caucus process will be a fair and impartial one," the party said in a statement. 
The unusual step of signing an oath should help quash any lingering concerns among the prospective candidates that Senator Rand Paul of Kentucky would have an edge, given that his father's 2012 presidential backers had once achieved a hostile takeover of the state party. They were ousted by allies of Governor Terry Branstad earlier this year. 

Branstad has typically also remained neutral during the caucus campaign season. That's likely to be the case as well for the state's two other top Republicans, Senator Chuck Grassley and Senator-elect Joni Ernst.