Indonesia Central Bankers Feel Inflation Pain in Their Paychecks
Herdaru Purnomo and Manish Modi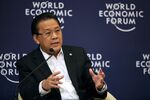 Weeks after Bank Indonesia Governor Agus Martowardojo won a 2015 pay increase for meeting his inflation target this year, a November fuel-price increase has put his next salary gain at risk.
Indonesia's inflation will probably average 6.4 percent this year and 6.95 percent next, above the central bank's 3 percent-to-5-percent target, according to the median of six estimates in a Bloomberg survey. An overshoot would undermine the case for a subsequent salary increase for the monetary authority's top officials, lawmakers say.
"There is a benchmark to decide the Bank Indonesia board of governors' salaries" and that's inflation along with the macroeconomic assumption for the next year, said Harry Azhar Azis, a member of the parliamentary commission that in September approved the central bank's budget with the 2015 pay raise. The board didn't get a pay increase this year because it missed inflation targets in 2013, he said.
The central bank, which increased its benchmark interest rate by 1.75 percentage points in 2013, oversaw a cooling in inflation to less than 5 percent from July to October this year. Consumer prices in Southeast Asia's biggest economy jumped 6.23 percent in November from a year earlier as President Joko Widodo cut state subsidies for diesel and gasoline, making Indonesia a standout as inflation eases elsewhere with falling oil prices.
Rate Increase
Bank Indonesia raised the benchmark interest rate to 7.75 percent on Nov. 18, the day Widodo's fuel-price increase took effect. Further tightening may be limited by the already elevated levels of borrowing costs as economic growth slows, some economists say.
"Bank Indonesia faces a more difficult trade-off this time versus 2013 because of weaker growth," said Chua Hak Bin, head of emerging Asia economics at Bank of America Merrill Lynch in Singapore. "We think one more policy rate should be sufficient to contain the second-round inflation effects from the fuel-price hike."
The monetary authority's success or failure in meeting its price target is a consideration for deciding board members' compensation levels, according to Ecky Awal Mucharam, who was on the commission that approved the Bank Indonesia 2015 pay increases and, as a current member, will also review the 2016 proposals.
Less Inclined
Lawmakers in September approved a 2015 pay increase for Bank Indonesia's board because inflation was within target at the time, said Mucharam. They will be less inclined to do so at the next review if price gains stay elevated at current levels, he said.
Salaries at the central bank will rise by as much as 14.5 percent next year, according to Azis, without specifying the increment for the governor or his board. Azis now heads parliament's supreme audit agency.
The central bank's main objective is to achieve and maintain the stability of the rupiah value against goods and services, reflected by the rate of inflation, and against other currencies, reflected by the exchange rate, spokesman Peter Jacobs said.
"The prescribed single objective is intended to establish a target that is clear and to be achieved by Bank Indonesia within its limits and responsibilities," he said.
Before it's here, it's on the Bloomberg Terminal.
LEARN MORE