If Only More Laws Involved Taking Down Nazis
An Associated Press report spurred successful legislation in six weeks. All it took was a few Nazis.
By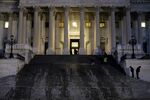 The House voted unanimously on Tuesday to end Social Security benefits for Nazis. The bill passed six weeks after the Associated Press found that the Justice Department for years had been using the benefits as leverage to convince suspects to leave the country.