Luxury Hotels Spring Up Across China
Christina Larson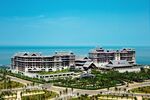 In July, JW Marriott opened an upscale hotel in Zhengzhou, capital of China's Henan province; by the end of December, it plans to open a second in the western megacity of Chongqing.
The two smoggy, sprawling Chinese cities may not be top destinations for visiting western tourists, but both are important regional transportation hubs. As Chinese domestic tourism grows, and as more Chinese road warriors hit the trail, demand is growing for five-star accommodations in provincial capitals and other "second-tier" cities. (Beijing, Shanghai, and Shenzhen are usually considered China's "first-tier cities.")
JW Marriott is among the international hotel chains seeking to fill this new demand. The chain plans to open additional hotels in Kunming, another western Chinese city, and Macao, an island best known for resorts and gambling, in the first half of 2015. Meanwhile the luxury chain Sofitel is also expanding in China. Four new hotels are already in the blueprint stage, according to China Daily.

In the past five years, revenues for the hotel industry in China have grown on average 9.3 percent annually, according to the Australian research firm, IBIS World. In 2014, the total revenue will reach $47.7 billion, the firm estimates.
Overall business travel budgets are also rising steeply. In 2013, the Global Business Travel Association estimated that work-related travel spending within China hit $224 billion, up 14.3 percent from the previous year.
Before it's here, it's on the Bloomberg Terminal.
LEARN MORE