Eric Garner Non-Indictment Shows Limits of Body Cameras
A grand jury clears white police officer in the death of a black man in Staten Island on the same day that the NYPD debuts its body camera program.
By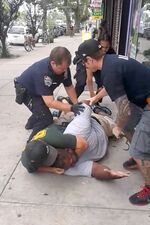 A New York City grand jury has decided not to indict the police officer involved in the chokehold death of Eric Garner, according to Jonathan Moore, a lawyer for the victim's family. 
This comes as a blow to Garner's family, and also advocates of police body cameras, like President Obama, who recently pledged $263 million in funding for body cameras and training, and New York City Mayor Bill de Blasio, who just introduced the city's experimental body camera program. It's hard to argue that video taping the altercation would have saved Garner's life or led to a different decision by the grand jury. 
Like Michael Brown, the 18-year-old killed in August, Garner was a black man killed by a white police officer. Unlike Brown's case, there is video of Officer Daniel Pantaleo putting Garner in a chokehold as he shouted "I can't breathe!" 
The video implies that Garner wasn't told he was under arrest—Pantaleo was wearing civilian clothes—and shows the use of a chokehold, which is against NYPD policy. Still, the grand jury cleared Pantaleo of all charges, on the same day that the NYPD debuted their police body camera program.
"Body cameras are one of the ways to create a real sense of transparency and accountability, one of the ways we can bring police and community closer to together," Mayor Bill de Blasio said Tuesday. This week the White House also asked for $263 million in funding for body cameras and training—of those funds $75 million would go towards 50,000 cameras. 
The timing seems to perfectly illustrate the fact that police body cameras won't solve the root problems of police using deadly force, a sentiment echoed on social media:
There's a case to be made that police body cameras might still change the behavior of police officers—as The Wall Street Journal reported in August, use of force by police officers declined 60 percent, and complaints fell by 88 percent, a year after officers in Rialto, Calif. started using body cameras. The argument is that there's a change in the psychology of officers when they feel like they're being watched.
But while body cameras and the new training NYPD officers are receiving in the wake of Garner's death may help, today proves there's no easy fix to prevent the next Eric Garner or Michael Brown. 
For those who were hoping for a different result Wednesday, the grand jury's verdict only diminished faith in the system. "There is no justice system," Ben Garner, Eric's father, told the Staten Island Advance. "Who can control the Police Department? We had a damn video tape."