Condition of Nation's Infrastructure Is Embarassing, Obama Says
Angela Greiling Keane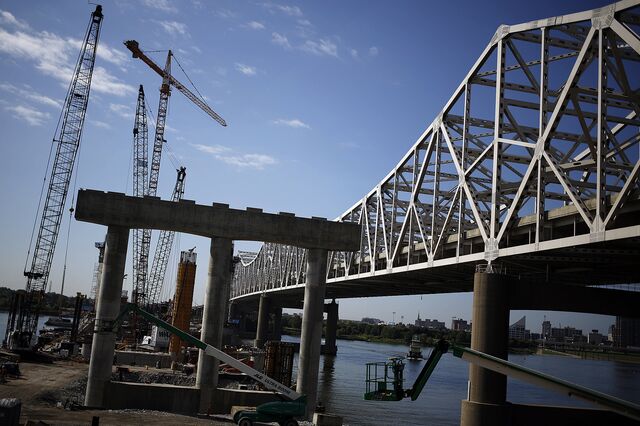 The state of U.S. roads, bridges and airports is embarrassing, according to President Barack Obama.
Speaking before an audience of chief executives at the Business Roundtable's Washington headquarters, Obama recalled the gleaming new infrastructure he saw when he traveled to China last month for a meeting of Asia-Pacific leaders.
"One thing I will say is if they need to build some stuff, they can build it," Obama told the CEOs today. "And over time, that wears away our advantage competitively. It's embarrassing."
While Obama has been campaigning for greater spending to repair and upgrade the nation's infrastructure, the administration and Congress haven't been able to agree on a long-term funding plan. The 18.4 cents-a-gallon federal gasoline tax, the primary source of highway and mass transit funding, hasn't been raised since 1993. Obama, along with most lawmakers, has opposed raising the tax or instituting a levy based on miles driven.
Obama said he'd "much rather have our problems than China's problems," and pointed to the drawbacks of the Chinese government that doesn't brook dissent.
"Now, you got an authoritarian government, you know, that isn't necessarily accountable," he said. "I understand we're not going to do that. But if they're able to build their ports, their airports, their smart grid, their air traffic control systems, their broadband systems with that rapidity and they're highly superior to ours, over time that's going to be a problem for us."
He also defended U.S. environmental regulations, which businesses blame for adding cost and time to construction of roads, buildings and power plants. While some regulations might truly be a burden on business, for many others the societal benefits outweigh the costs. Again, he cited China.
"I will just point to one simple example, and that is you would not want your kids growing up in Beijing right now because they could not breathe," he said. "And the fact of the matter is, that used to be true in Los Angeles, as recently as 1970. And the reason it changed was because of the Clean Air Act."
Before it's here, it's on the Bloomberg Terminal.
LEARN MORE