CGN Power Said to Raise $3.2 Billion in Hong Kong Initial Offer
Fox Hu and Aibing Guo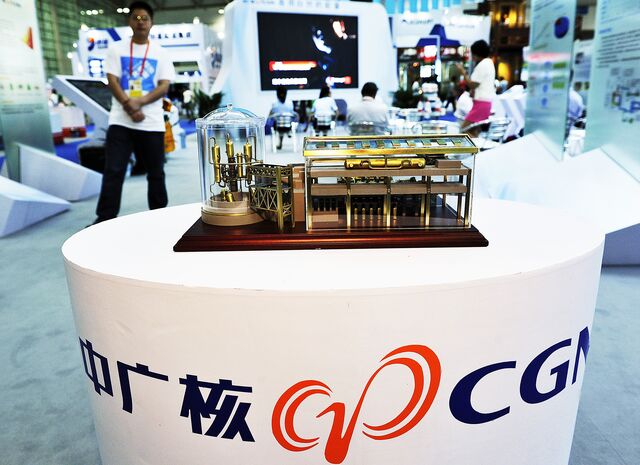 CGN Power Co., seeking to become China's first listed nuclear energy producer, raised about $3.2 billion in Hong Kong's biggest initial public offering in two years, people with knowledge of the matter said.
China's largest nuclear power generator sold 8.83 billion shares at HK$2.78 apiece, the top end of a marketed range, according to the people. It may later use an overallotment option to increase the deal size to about $3.6 billion, they said, asking not to be identified as the information is private.
CGN Power is drawing investor interest as China favors cleaner energy sources following a landmark deal with the U.S. to cut emissions. It joins BAIC Motor Corp. and Dalian Wanda Commercial Properties Co. in selling shares this month, bringing Hong Kong IPO proceeds for the year to the highest since 2010, according to data compiled by Bloomberg.
"It's crystal clear that China will speed up the installation of nuclear power generators to replace polluting resources such as coal," said Kevin Zhao, a Shanghai-based analyst at UOB-Kay Hian Holdings Ltd. "CGN Power has everything it needs to achieve steady and fast growth in many years to come, and its profit margin should be much better than traditional power generators."
A Hong Kong-based external spokeswoman declined to comment.
The sale is the biggest IPO in Hong Kong since People's Insurance Co. (Group) of China Ltd. raised $3.6 billion in December 2012, according to data compiled by Bloomberg. CGN Power, which offered the shares at HK$2.43 to HK$2.78 each, aims to start trading on Dec. 10, its prospectus shows.
Cornerstone Investors
The top end of the price range values CGN Power at 17.4 times this year's estimated earnings, data compiled by Bloomberg show. Producers of alternative energy globally trade at a median 19.8 times earnings, according to the data.
A total of 18 cornerstone investors agreed to buy about $1.33 billion of stock, according to CGN Power's prospectus. GIC Pte, Singapore's sovereign wealth fund, and Och-Ziff Capital Management Group LLC each agreed to invest $100 million.
The company forecasts profit will rise at least 30 percent this year to 5.47 billion yuan ($889 million), from 4.19 billion yuan last year, according to the prospectus.
China, the world's largest greenhouse gas emitter, agreed last month to begin reducing carbon dioxide emissions by about 2030 and turn to renewable sources for 20 percent of the country's energy. The pledge, made at a meeting with U.S. President Barack Obama, marked the first time the country set a target for capping emissions.
CGN Power plans to double its nuclear production units in five years, from the current 11, Chairman Zhang Shanming said at a Nov. 26 press conference in Hong Kong. It has nine units under construction and will add another two by increasing its stake in the Taishan nuclear project, Zhang said.
Of the six Hong Kong IPOs this year that raised at least $500 million, only two priced shares at the top end of their marketed ranges, data compiled by Bloomberg show. The tally doesn't include CGN Power. Drugmaker Luye Pharma Group Ltd. has surged 65 percent since it raised the maximum amount sought in its July share sale, while auto-rental provider CAR Inc. has jumped 44 percent since a September IPO , the data show.
Before it's here, it's on the Bloomberg Terminal.
LEARN MORE