Alibaba Eclipsing Hyundai Threatens Korea Dollar Bonds
Kyungji Cho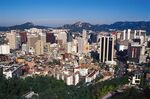 South Korea's offshore bond market has been eclipsed by China in sales volume and investor appeal after yield premiums slumped to a seven-year low.
Korea's share of investment-grade dollar debt offerings from Asia ex-Japan fell to 16 percent this year, from 18 percent last year and a peak of 56 percent in 2008, data compiled by Bloomberg show. Chinese issuers took a 47 percent share, including Alibaba Group Holding Ltd.'s record $8 billion offer. Hyundai Motor Group was Korea's biggest non-state issuer, raising $2.3 billion.
While China's economy is forecast to grow 7.4 percent this year, the slowest in more than two decades, that's still double Korea's pace. Demand for Korean notes has driven yields so low that the market turned from most-favored among Asia-Pacific investors in March to least-preferred by October, according to a Bank of America Merrill Lynch Fund Manager Survey.
"Korea's status seems to have weakened a bit in spite of its good credit quality because it's become too expensive to provide much value to investors," said Whang Youn Sung, director of global capital markets at Bank of America Corp.'s local unit, the top arranger of the nation's international bond sales. "China is fast emerging with mega deals such as Alibaba and it seems some investors even sold their bonds to buy the mega issues. I'm concerned this trend may become a threat to Korean paper next year."
The premium investors demand to hold South Korean notes has fallen 38 basis points in 2014, and touched a seven-year low of 107 in October, while China's spread has climbed 4 basis points to 328, according to JPMorgan Chase & Co. indexes.
Spread Compression
Korean notes have gained 4.8 percent this year, compared with 7.8 percent for the Asian measure and 7.9 percent for similar Chinese bonds. About $44 billion of Korean offshore bonds fall due next year, down from $47 billion of this year's maturing bonds, Bloomberg-compiled data show.
Of the $133 billion of investment-grade dollar bond sales in Asia outside of Japan this year, $63 billion came from mainland China, with $22 billion from Korea and $20 billion from Hong Kong. China has been the No. 1 issuer since last year, overtaking Korea, which was the region's biggest investment-grade issuer between 2004 and 2012.
With yields near record lows globally, investors may be willing to take on more risk, turning to corporate debt from emerging markets other than Korea, Bank of America's Whang said. The spread for Asia investment grade notes is down 12 basis points this year, less than one third the decline for Korea, the JPMorgan indexes show.
Value Compared
"Korea is considered a safe haven within Asia and hence dollar issues from the country have been well sought after by non-Asian investors," Clement Chong, a Singapore-based credit analyst at ING Investment Management Co., said Nov. 28. "For the same credit quality as measured by credit rating, the spread on Chinese corporate bonds far exceeds that of Korean corporate bonds."
Credit-default swaps insuring South Korea's sovereign debt against non-payment for five years fell 16 basis points from Dec. 31 to 49.5 basis points yesterday, according to data provider CMA. That compares with 78 basis points for China, whose sovereign debt is rated Aa3 by Moody's Investors Service, the fourth-highest investment grade and the same as South Korea.
Unbeatable Dollar
The premium on 10-year notes sold by Korea National Oil Corp., the state-run energy company with an Aa3 rating from Moody's, has risen 21 basis points to 99.6 since its issue in July. A similar-rated 2024 note from Sinopec Group Overseas Development Ltd., the Chinese state-owned petrochemical company, traded at a 143 basis-point spread, compared with its issue spread of 160 basis points in April.
Korean issuers have sold almost $35 billion of international bonds this year, close to the $36.6 billion full-year record in 2012, according to Bloomberg data. Bank of America Merrill Lynch arranged 10.2 percent of sales, while Citigroup Inc. helped place 8.9 percent and HSBC Holdings Plc 8.5 percent, the data show.
The share of U.S. dollar bonds rose to 73 percent this year, versus 55 percent last year, while euro bonds accounted for 4.8 percent, down from 16 percent, the data show.
"For issuers, no currencies could beat the dollar in terms of interest rates this year," said Whang. "With the rising rate environment anticipated next year, sales of Korean offshore bonds will likely decrease slightly and more issuers may consider selling non-dollar bonds."
Hyundai Capital Services Inc. and Hyundai Capital America, a U.S.-based unit of Hyundai Motor, raised a combined $2.3 billion this year, compared with $1.5 billion in 2013 and $2.6 billion in 2012, according to Bloomberg data that groups issues under the parent company. Export-Import Bank of Korea was the biggest state-backed seller, issuing $8.7 billion.
U.S. Interest
"At current spread levels, we have a preference for Chinese state-owned enterprise bonds relative to Korean SOE paper," Kaushik Rudra, the Singapore-based global head of credit research at Standard Chartered, said Dec. 2. "Crossover interest from U.S. investors remains very strong for Korean dollar paper."
More Korean paper has been bought by U.S. investors as ratings upgrades allowed those seeking high-grade notes to participate, according to Bank of America. The participation rate of U.S. investors was 44 percent this year, up from 34 percent last year, according to the Bank of America Merrill Lynch research.
South Korea's won has weakened 5.8 percent against the dollar this year, more than the yuan's 1.6 percent drop. The nation's gross domestic product rose 3.2 percent last quarter from a year earlier, the least since the three months ended June 2013. Asia's fourth-largest economy will expand 3.5 percent in 2014, 3.6 percent in 2015 and 3.7 percent in 2016, according to the median estimates of economists surveyed by Bloomberg.
"Net new dollar issues from Korea are not expected to be large in 2015," said ING Investment's Chong. "This, coupled with continued strong investor demand, should support spread levels."
Before it's here, it's on the Bloomberg Terminal.
LEARN MORE