What Will Weather Do in 2015? Forecasters Say El Nino Looms
Phoebe Sedgman and Supunnabul Suwannakij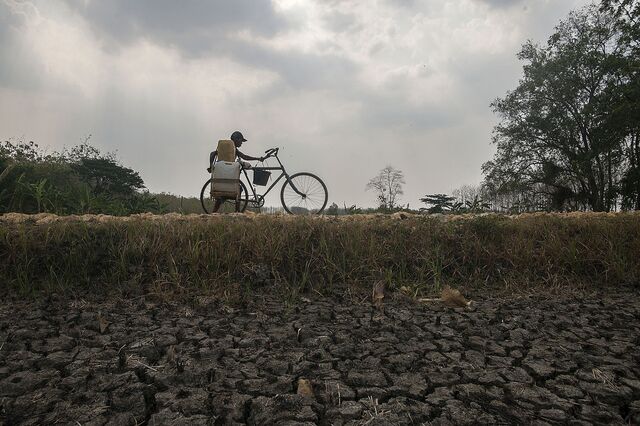 Forecasters in Australia and New Zealand warned El Nino may soon be back, reviving concern that the weather pattern that can bring drought to parts of Asia and rains to South America may return for the first time since 2010.
Tropical Pacific temperatures have exceeded El Nino levels for a month and the Southern Oscillation Index, or SOI, has remained at or near thresholds for three months, Australia's Bureau of Meteorology said in a statement today. Patterns are consistent with a weak event developing, New Zealand's National Institute of Water & Atmospheric Research said separately.
El Ninos, caused by periodic warmings of the Pacific, can roil agricultural markets worldwide as farmers contend with drought across parts of Asia or too much rain in South America. Palm oil, cocoa, coffee and sugar are among crops most at risk, according to Goldman Sachs Group Inc. Forecasters, including scientists from Australia, raised the possibility of an El Nino developing earlier this year, before tempering their outlook as conditions for the event didn't develop.
"Further warming of the tropical Pacific Ocean is likely, so it also remains possible that the ocean and atmosphere will fully couple in the coming weeks to months," Australia's bureau said in the fortnightly update. "If an El Nino is established, models suggest it will be weak, or moderate at best."
Exceed Thresholds
While some indicators are close to or exceed thresholds, others have remained near-average or only temporarily approached El Nino levels, Australia's bureau said. That indicates the interaction between the ocean and atmosphere required for an El Nino to be declared may not be fully locked in, it said, maintaining an alert that indicates at least a 70 percent chance that an event will be declared in the coming months.
"Some -- but importantly not all -- atmospheric indicators also show patterns consistent with the development of a weak El Nino," the New Zealand institute said. International guidance indicates that the chance of an El Nino developing between December and February is about 75 percent, it said.
El Ninos, caused by periodic warmings of the tropical Pacific, occur every two to seven years and are associated with warmer-than-average years. The last El Nino was from 2009 to 2010, and the Pacific has either been in its cooler state, called La Nina, or neutral since then.
The SOI, which indicates the development and intensity of El Nino or La Nina events, has remained between minus 11 and minus 7 over the past fortnight and the latest 30-day value to Nov. 30 is minus 10, the Australian bureau said. Sustained negative values below minus 8 may indicate an El Nino.
Signs Seen
"Regardless of whether an El Nino is declared, El Nino-like effects are likely," the Australian bureau said, citing impacts already seen in the country as well as in Asia, South America and southern Africa. Whether there's an event or not, a number of signs have already emerged, it said.
El Ninos can hurt rice output across Asia, including from Thailand, India and Vietnam, the world's largest exporters. Ending stockpiles may contract 2 percent to 177.7 million metric tons in 2014-2015, the first drop in a decade, the Food & Agriculture Organization said in October.
"Effects on rice production are unlikely to be very large as the El Nino event, even if it occurs, is likely to be weak or moderate," said David Dawe, a Bangkok-based senior economist at the FAO. Irrigation systems, both surface and groundwater, can probably handle any small rainfall shortages, he said.
Before it's here, it's on the Bloomberg Terminal.
LEARN MORE