Wall Street Decathlon Adds Event Teaming Bankers, Clients
Erik Matuszewski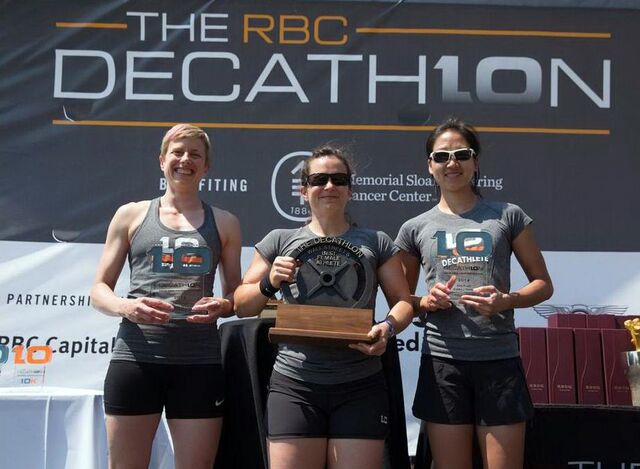 The Wall Street Decathlon opens registration next week with a new team event that allows competitors to build teams of clients, colleagues or friends.
The 10-event charity competition was created in 2009 to find Wall Street's best all-around athlete, and since then has raised more than $5 million for cancer research. About 150 financial industry workers participated at St. John's University last year, when the decathlon raised almost $1.5 million for Memorial Sloan-Kettering Cancer Center in New York.
The event, similar to the National Football League combine that tests an incoming player's speed, strength and agility, is scheduled for June 14. The new team competition is being held the previous day and, given the demand from the participant and donor bases, only the team captain is required to work in financial services.
"They saw tremendous value in entertaining clients and vendors from outside the industry in a non-traditional outing," co-founder Marc Hodulich said. "The initial demand was so high that we immediately recognized the need for a full day dedicated to the team event."
Registration opens Dec. 9 at the decathlon's website, with a limit of 150 individual participants and 75 teams. The competition will again be held at DaSilva Memorial Field in the Queens Borough of New York City.
Mark Rubin of Barclays Plc, a former Pennsylvania State University safety who spent time in training camp with several National Football League teams, has won the individual title the past three years. He successfully defended his title last year by winning the final event, the 800-meter run, by less than a second.
Prize-Winners
Along with prizes for the top three overall finishers, there's a women's champion and awards for the top executives and in several age groups. Individual competitors are required to raise at least $3,000 in donations for the charity.
JP Morgan Chase won last year's team competition with a group featuring ex-Harvard defensive back Jonathan Mason; Jason Price, a former All-American sprinter from the University of Southern California; and Phillip Alexander, who had a brief NFL stint after playing linebacker at Duke University.
In 2015, teams can include two to four competitors -- male or female -- and captains can invite clients, vendors, partners or friends in addition to colleagues. As an example, organizers said the change allows groups like investment banks and private wealth managers to participate alongside key clients.
Competitors can choose to participate in any of the 10 events, with the top two scores per team recorded.
Fundraising Counts
Points are awarded for fundraising as well as performance, with one-third of a team's total score determined by how much money it raises for charity.
"Competitors will now have to be competitive in both aspects of the event should they want to go for the title," Hodulich said in an e-mail. "This levels the playing field across the board and extends the competition outside of the arena and into the offices of Wall Street's premier firms."
The decathlon includes three running events at distances of 40 yards, 400 meters and 800 meters. It also has competitions in pull-ups, a football throw, an agility drill, a 500-meter stationary row, vertical jump, bench press and dips -- a triceps exercise where competitors lift their own body weight.
Before it's here, it's on the Bloomberg Terminal.
LEARN MORE