VTB Chairman Sees 'Some Panic' in Russian Banking System
Jason Corcoran, Lyubov Pronina and Natasha Doff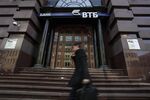 State-controlled VTB Bank bonds sank below 72 cents on the dollar on concern that falling oil and a weakening ruble are straining Russian lenders' finances.
Sergey Dubinin, chairman of VTB's supervisory council, underscored the anxiety by saying Russia's banking system is experiencing "some panic." The ruble drop and four interest-rate increases this year are a "bad combination" for growth and lenders, he said yesterday at a banking forum in London, organized by Adam Smith Conferences.
"Death by a thousand cuts comes to mind," Ian McCall, who holds Russian banking debt as part of $107 million in assets at Quesnell Capital SA in Geneva, said by e-mail yesterday. "The agony of markets correcting can go on for quite some time."
VTB's 9.5 percent perpetual bonds dropped more than 10 percent in the past two days to 68.41 cents on the dollar at 1:35 p.m. in Moscow. to yield a record 14.34 percent, according to data compiled by Bloomberg. The security traded at more than 91 cents three weeks ago. The ruble has weakened 16 percent per dollar in the past six days as the price of crude oil, the country's chief export, sank to a five-year low.
Lenders are facing increasingly tough credit conditions after the U.S. and the European Union imposed sanctions over President Vladimir Putin's role in Ukraine, curbing companies' access to global markets and pushing the $2 trillion economy toward a recession.
'Obvious' Panic
Some of Russia's biggest state-run banks have sought government help after suffering a plunge in profits. OAO Sberbank, the country's largest, cut its 2014 earnings forecast on Nov. 26, while VTB eliminated a third of its staff in Europe in the third quarter and sought state support to replenish capital. OAO Gazprombank became the latest bank to gain state aid, with the government promising 39.95 billion rubles ($790 million) in support to the state-owned lender yesterday.
"Economists for such a long time convinced everyone that with the decrease in oil price we will enter this difficult social and economic crisis," VTB's Dubinin said. "So when it started to happen, then some panic -- including in the banking sector -- became obvious."
Dubinin's comments "cannot be considered the official position of VTB Bank," according to an e-mailed statement today from the lender's press service.
Russian gross domestic product may shrink 0.8 percent next year, compared with an earlier estimate of 1.2 percent growth, Deputy Economy Minister Alexei Vedev said in Moscow yesterday.
Kremlin Backing
The yield on VTB's dollar-denominated bonds due in October 2022 climbed 64 basis points to a record 10.74 percent today, as the price fell to 80.20 cents. The bonds yielded an average of 7.31 percent in the past 12 months.
The Kremlin is backing the nation's banks after sanctions restricted access to financing. It helped VTB, Gazprombank and Russian Agricultural Bank, known as Rosselkhozbank, to bolster their capital by allowing them to exchange loans worth 279 billion rubles into preferred shares.
VTB, which converted a more than 200 billion-ruble state loan into preferred shares, asked for additional state support of 250 billion rubles, Finance Minister Anton Siluanov said last week. The loan has not yet been approved and a decision will probably come this year, Dubinin said yesterday.
The lender's charge for bad debts almost tripled in the third quarter to 65 billion rubles from 22.1 billion rubles a year earlier, the bank said Nov. 20. Losses linked to the Ukraine crisis were 37 billion rubles in the first nine months of 2014. VTB shares have fallen 40 percent in London this year.
Getting By
"There's always this uncertainty about the quality of their portfolios," Dmitry Dudkin, the head of fixed-income research at UralSib Financial Corp. in Moscow, wrote by e-mail yesterday. "I believe Russia will do alright but I am apparently in a minority. Many investors prefer not to study such issues too much but reallocate assets to more stable places."
Brent crude fell 38 percent since reaching this year's high on June 19 and touched a five-year low of $67.53 a barrel two days ago. Oil is extending losses after a Nov. 27 decision by the Organization of Petroleum Exporting Countries to maintain its output, resisting calls from OPEC members including Venezuela and Iran to reduce production.
"We will get through this situation," Dubinin said of Russian banks. "Stabilization will happen, but unfortunately at those levels that will be unlikely to be favorable for the Russian banking system," he said, referring to the oil price.
Before it's here, it's on the Bloomberg Terminal.
LEARN MORE