Ukraine's New Cabinet Starts Work to Tackle War and Economy
Daryna Krasnolutska and Volodymyr Verbyany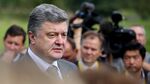 Ukraine's new cabinet won approval to take office and must set to work fixing the economy and tackling a war that has triggered the worst standoff between Russia and its Soviet-era foes in more than two decades.
With fighting against pro-Russian separatists hammering the economy, President Petro Poroshenko granted citizenship to three foreigners to let them take ministerial posts. Lawmakers voted 288 against 1 with 30 abstentions to approve the cabinet yesterday, as Russia and NATO exchanged recriminations over the conflict that has killed more than 4,300 people.
"Ukraine is facing extraordinary challenges: a very difficult situation in the economy, Russian aggression, and a need of radical reforms and the fight against corruption," Poroshenko said on his website. "All these demand unusual decisions in governance."
The approval follows a month of wrangling between Poroshenko and Premier Arseniy Yatsenyuk, whose parties won the most votes in Oct. 26 elections. The cabinet must now pass a 2015 budget to get $2.8 billion in International Monetary Fund aid. It needs the cash by the end of January to redeem debt, pay for heating fuel and shore up the hryvnia, which has lost 45 percent against the dollar this year.
New Team
Poroshenko gave citizenship to Ukrainian-American Natalie Jaresko, the Harvard-educated chief executive officer of Horizon Capital Associates LLC, to allow her to take the Finance Ministry post. He tapped Aivaras Abromavicius, a Lithuanian partner at East Capital Group, for the Economy Ministry. He also granted citizenship to Alexander Kvitashvili, a Georgian, for the Health Ministry.
Ukraine's U.S. and European Union allies have repeatedly called for a crackdown on corruption. The former Soviet republic of 43 million people is ranked 144th of 177 countries in the Transparency International Corruption Perceptions Index, alongside Iran and Nigeria. Fighting graft will be central to helping heal Ukraine's economy, which will contract 7 percent this year, Yatsenyuk said Nov. 18.
Much of the cabinet's success will depend on its ability to meet the IMF's demands so it can receive new cash from its $17 billion bailout agreed on this year and potentially expand the package to cover expenses -- such as bolstering central bank reserves to protect the hryvnia -- not envisioned when the deal was first approved in April.
Now-or-Never Moment
Jaresko said she aimed to prepare a cost-cutting 2015 budget by Dec. 20, while Deputy Prime Minister for Infrastructure Valeriy Voshchevskyi said the government would try to reduce corruption by selling state-run railway Ukrzaliznytsia and Ukrainian state road agency Ukravtodor.
"This is a now-or-never moment," Amanda Paul, an analyst at the European Policy Centre in Brussels, said by phone. "Ukraine needs to put its foot down on the reform accelerator both in terms of political and economic reform."
The conflict has hit Russia's economy as well. It may enter its first recession since 2009 next year, Deputy Economy Minister Alexei Vedev said yesterday, as the Ukraine conflict and lower oil prices exact a toll on the world's biggest energy exporter. The ruble continued its decline today, weakening 1.5 percent to a record of 54.67 against the dollar at 11:13 a.m. in Moscow, after it lost 4.9 percent yesterday.
Five Ukrainians were wounded in shelling in the eastern conflict zone in the past 24 hours, Ukraine's Defense Ministry said on Facebook. Pro-Russian insurgents opened fire 39 times, it said.
Risky Standoff
The standoff between Russia and NATO members could "spin out of control" as President Vladimir Putin's government continues to violate cease-fires in Ukraine and its warplanes challenge alliance airspace, the military bloc's chief said.
North Atlantic Treaty Organization Secretary General Jens Stoltenberg accused Russia of sending tanks, advanced air-defense systems and other heavy weapons across the border to Ukrainian rebels. Russia denies involvement in the conflict.
His comments were echoed by U.S. Secretary of State John Kerry, who joined a meeting of NATO foreign ministers in Brussels. While Ukraine and the rebels signed a truce agreement almost three months ago in Minsk, Belarus, fighting has raged across southeast Ukraine, with the government reporting hundreds of soldiers killed.
"Since the Sept. 5 Minsk cease-fire agreement, Russia has funneled several hundred" tanks, armed personnel carriers, and other military vehicles directly to pro-Russian separatists in Ukraine, Kerry said. Russian military forces still operate inside eastern Ukraine where they provide "command and control" for the separatists they back, he added.
Ukraine's neighbor still has 6,000 troops in Ukraine, Stepan Poltorak, who Poroshenko wants to stay on as defense minister, said in a briefing yesterday. Russia blames NATO for stoking the conflict by moving more military equipment to its eastern members.
The prime minister of EU and NATO member Slovakia, Robert Fico, warned there's an increasing risk of the conflict spreading, and said that was a reason NATO should deny Ukraine membership in the alliance.
"There is a 70 percent probability of a military conflict," Fico said at a conference in Bratislava. "I'm talking about a large military conflict. I'm not talking about a Russia-Ukraine conflict."
Before it's here, it's on the Bloomberg Terminal.
LEARN MORE