The Hillary Clinton Speaking Tour Rolls On
A procession of high-dollar speaking dates could conflict with the former secretary of state's presidential aspirations.
By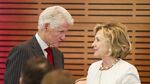 Since leaving the State Department in February 2013, Clinton has been on a speaking tear, making millions from dozens of paid appearances. But despite her insistence that she's nearing a decision on a presidential run, Clinton isn't planning to stop collecting those checks anytime soon. On Sunday night, the Winnipeg Free Press reported that Clinton will deliver the keynote address at a Jan. 21 conference sponsored by The Canadian Imperial Bank of Commerce. News of that speech came after an announcement of her appearance at the Watermark Silicon Valley Conference for Women on Feb. 24, a conference about women in the workforce.