The Hillary Clinton Speaking Tour Rolls On
A procession of high-dollar speaking dates could conflict with the former secretary of state's presidential aspirations.
By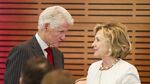 Since leaving the State Department in February 2013, Clinton has been on a speaking tear, making millions from dozens of paid appearances. But despite her insistence that she's nearing a decision on a presidential run, Clinton isn't planning to stop collecting those checks anytime soon. On Sunday night, the Winnipeg Free Press reported that Clinton will deliver the keynote address at a Jan. 21 conference sponsored by The Canadian Imperial Bank of Commerce. News of that speech came after an announcement of her appearance at the Watermark Silicon Valley Conference for Women on Feb. 24, a conference about women in the workforce. 
The timing of the two speeches is notable: Both are happening next year, when Clinton is supposed to be in high gear for her much-anticipated presidential campaign. Those winter appearances may say nothing about her time-frame or whether she intends to run at all. (Advisers say she's not yet made a final decision.) And Clinton could always cancel the addresses, if she announces a campaign before the speaking dates. 
But the speeches do raise other questions. While a Clinton spokesman did not respond to questions about whether her newest appearances were for a fee, the series of paid addresses have become a rolling liability for Clinton, prompting a stream of stories detailing her fees—often as high as $300,000—and very specific demands. A rather unflattering piece in the Washington Post last week combed her contract (which the reporters got through a Freedom of Information Act Request) and found that Clinton required, among other items, room temperature water with lemon wedges, diet ginger ale, a custom podium, and a lavalier microphone (a clip-on mic) for a March 5 speaking engagement at the University of California-Los Angeles. In another contract with the University of Buffalo, Clinton retained the right to approve her introducer, program, moderator and the set, and she limited to 50 the number of pictures taken on a rope line. The $225,000 she charged to speak at the University of Nevada-Las Vegas prompted protests from student leaders who said Clinton should donate her fee back to the university.
Those kinds of details delight Republican operatives, who see an opportunity to paint Clinton as a wealthy political diva who is out of touch with ordinary Americans. For them, there's more than a bit of irony in the attack, which was deployed successful by Democratic outside money groups to against Republican presidential candidate Mitt Romney in 2012. Now, the criticism against Clinton often comes from a Republican opposition research group formed by Romney campaign operatives after the 2012 campaign. "Will Clinton be demanding her usual $300,000 and crudite/diet ginger ale she insists upon at other events from CIBC?" the group wondered today, in an e-mail blast to reporters.
Clinton's decision to continue making paid speeches has prompted a quiet round of psychoanalysis from long-time observers. The couple certainly doesn't need the money: As of January 2013, the date of Hillary Clinton's last public disclosure, they were worth between $10.9 to $27.3 million, according to a Bloomberg News analysis. Today, the Clintons probably have much more. Estimates of the book advance for Hard Choices, Clinton's memoir of her time in the State Department, range as high as $14 million. Former President Bill Clinton has been paid almost $106 million in speaking fees since leaving the White House. And that's just the income disclosed through public records. There's at least one example of former President Clinton acting as an adviser to an investment fund run by a billionaire friend—a role that rewarded him with at least $12 million of partnership payments. The relationship only became widely-known when Clinton tried to end it in 2007, as part of a broader effort to protect his wife's first presidential campaign from conflicts of interest. 
People close to Clinton say she's focused on raising money for the foundation, which neither she nor her husband will be able to do if she announces a presidential run. If she wins the White House, her new role could sideline the couple from foundation fundraising for as long as eight years. Over the past year, the couple and Chelsea, their daughter, have traveled the country holding small fundraising dinners with top foundation donors. Clinton says her fees from some of her appearances at public universities have gone to her family foundation, the Bill, Hillary & Chelsea Clinton Foundation. 
But that still leaves dozens of appearances where the fees seem to go straight into the Clintons' personal bank account. That could be a problem, some Democrats say privately, unsurprisingly reluctant to criticize a likely candidate on the record before she's even formally announced. "We've had some very wealthy presidents. Wealth, in itself, has never been a disqualification for office," said Robert Reich, President Clinton's former labor secretary, in an interview over the summer when Clinton's bungled comment about being "dead broke" dominated reports of her book tour. "The problem so far is that she has answered questions about her speaking fees and her family's money by assuming that the question is about whether she or she and her husband deserve the money," he added. "The real question behind the question is are you going to be fighting for average working people and the poor and setting limits on the political and economic power of some of the big guys."
It's worth remembering that the Clintons weren't always quite so flush: They left the White House deeply in debt, owing as much as $10 million in unpaid legal fees from the Whitewater and Monica Lewinsky investigations. Long-time fundraiser Terry McAuliffe, now governor of Virginia, had to personally secure a the loan with $1.35 million of his own money for the couple to buy their five-bedroom, $1.7 million home in Chappaqua. The indebtedness was relatively short-lived; their book advances soon covered the costs. Some in Clinton's circle theorize that the experience has stayed with the couple. It's one they never want to repeat—even as they prepare for the ultimate do-over.