The Bloomberg Holiday Gift Guides: A Guide
By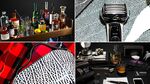 This year, the gang at the Loot blog wanted to take on holiday giving from multiple angles. After all, what's right for the men in your life might not be right for the women, and the perfect gift for the person who takes impeccable care of her hair and skin is probably not the perfect gift for a person who spends all his spare time crafting the perfect home cocktail bar. As such, we've built a few gift guides to help you out. Below, our guide to the gift guides:
FOR MEN:
We divided our men's gift guide into three parts: one, for a traditionalist who loves dress watches and leather goods, and playing cards at his club. We call him Mr. London. The second is for a younger, startup guy, who likes to surround himself with whimsical gadgets, and who can make a work station anywhere from his loft apartment to a dive bar around the corner. He's Mr. Brooklyn. And finally, we have gifts for a busy, modern-living workaholic we call Mr. Tokyo. He's a guy who loves clean lines, Apple products, and a good whiskey while working late at the office.

This gift guide includes products from David Yurman, Persol, Omega, Belstaff, and Etro.

This gift guide includes products from Tod's, Smythson, The MoMA Store, School House Electic & Supply Co., and Tudor.


This gift guide includes products from Frette, John Lobb, Nomos, Montblanc, and Bottega Veneta.
FOR WOMEN:
For our gift guide for women, we looked closer to home -- by canvassing the female style experts at Bloomberg for what they would want this year, we came up with a list of perfect gifts for the wide variety of ladies in your life. From dresses and jewelry, to motorcycle jackets and portable fireplaces, it's full of ideas to inspire. You won't disappoint her this year.

Our in-house experts are: Nic Screws, style director, Hannah Elliott, Bloomberg car columnist, Tejal Rao, restaurant critic, Emma Rosenblum, editor of Businessweek's Etc. section, and Olivia Sterns, Bloomberg TV reporter.
FOR COCKTAIL ENTHUSIASTS:
For your friends who already have a well-stocked home bar, how do you find a bottle that will delight them and add to their collection? Tejal Rao has more than a dozen ideas, from small batch gins to sip-worthy tequilas.

And check out our Tumblr or Instagram to watch photographer Jarren Vink's work in action as he builds out the perfect bar cart for 2015.
FOR A BEAUTY RE-BOOT
This guide contains gift ideas for men and women, and is a great first step for re-invigorating a beauty or grooming routine. With ideas for how to improve your morning shower sitch, to how to make your apartment smell better, grooming expert Kristen Dold will help you help your friends start the new year feeling fresher.

FOR THE .001%
What do you get the person who truly can buy anything? This guide contains ideas for rare, one-of-a-kind, or extravagantly inventive gifts and experiences that would wow literally any recipient -- including burgeoning Bond villains.

Before it's here, it's on the Bloomberg Terminal.
LEARN MORE