Senate Republicans to Consider Return to 60-Vote Threshold for Most Nominees
Kathleen Hunter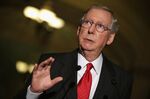 Senate Republicans next week will consider returning to a 60-vote threshold for advancing most presidential nominees when they take the majority in January, Minority Leader Mitch McConnell said today.
McConnell has sharply criticized current Majority Leader Harry Reid, a Nevada Democrat, for changing U.S. Senate rules in November 2013 to strip the minority party of the power to block almost all presidential nominees.
"I can't give you an answer on what we're going to do, but we are going to have an in-depth discussion shortly," McConnell of Kentucky said at a Wall Street Journal event in Washington.
He said Republicans will hold a closed-door discussion Dec. 9 to decide whether to act on the issue January.
"It's impossible to un-ring a bell, so the precedent is there, unfortunately," McConnell said today, adding, "There are points of view on both sides of this."
The Senate Democrats' rule change -- described as the nuclear option -- allows a simple majority to confirm presidential nominees, except for those to the U.S. Supreme Court. The change doesn't apply to legislation.
Reid sought the revision after a number of Democratic nominees to federal courts fell short of the 60 votes needed to end the delaying tactic known as a filibuster.
Republicans at the time called it the most dangerous revision of Senate procedure in more than two centuries.