For Putin, the Economic Signals Are Looking Worse and Worse
By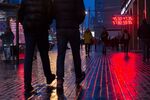 The warning lights on Russia's economy are officially flashing red. The Kremlin acknowledged for the first time on Tuesday that the country will enter recession in early 2015 after the economy stalled in the current quarter. The government also announced it would have to dig into reserves to meet next year's budget, while the head of a major state bank warned of panic in the country's banking system.
Speaking to reporters in Moscow, Deputy Economy Minister Alexei Vedev predicted the economy would contract 0.8 percent next year, down from an earlier estimate of 1.2 percent growth. Capital investment is forecast to shrink 3.5 percent next year, he said, while household disposable income could decline as much as 2.8 percent as the falling ruble stokes inflation.
Separately, the Finance Ministry said it might have to take up to 500 billion rubles ($10 billion) from a reserve fund to cover government spending in 2015 as slumping oil prices cut into tax revenues from energy exports. The government also said it expects U.S. and European sanctions to remain in place during 2015, sharply limiting Russia's access to global capital markets. Capital flight is forecast to total from $120 billion to $130 billion in 2014 and $90 billion in 2015.
"This is now an official recognition from the government that the economic environment will be worse than originally planned," Ivan Tchakarov, Citigroup's Moscow-based economist, told Bloomberg News.
Crude oil prices continued their decline to below $72 per barrel on Tuesday, dragging the ruble  down to a near-record low of 52.70 per dollar. Oil exports are Russia's leading source of hard currency, and major Russian banks and companies have lost access to Western capital markets because of sanctions imposed by the U.S. and European Union.
Speaking at a conference in London, Sergei Dubinin, chairman of Russia's second-largest lender, VTB Bank, said the situation was causing "some panic" among bankers, although he added: "We will get through this."
Banks, including VTB and state-controlled Sberbank, Russia's No. 1 lender, have suffered steep drops in earnings and are seeking help from the government. The Kremlin has already agreed to several bank bailouts and announced today it would inject 39.95 billion rubles ($790 million) into the country's No. 3 lender, Gazprombank.
Before it's here, it's on the Bloomberg Terminal.
LEARN MORE