NYC Museumgoers Say Only State Can Approve Met Entry Fee
Chris Dolmetsch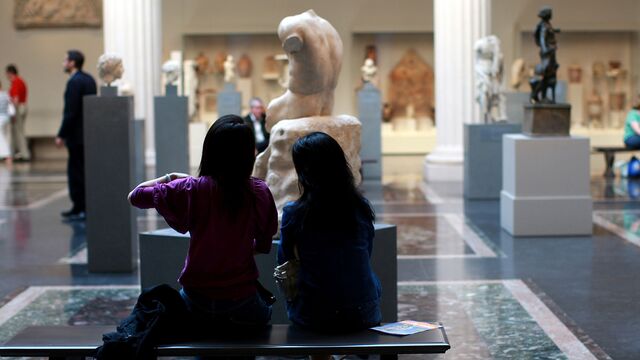 New York's Metropolitan Museum of Art, the largest U.S. art institution, must get permission from the state lawmakers before it can deny the public free entry, visitors told an appeals court in a dispute over admission fees.
Museumgoers, starting in 2012, filed two lawsuits to force the museum to allow free admission, saying a recommended $25 fee violated the Met's 1878 lease with the city and an 1893 state law requiring it to be open without charge five days a week.
Lawyers for the plaintiffs asked an appeals panel in Manhattan today to reinstate claims of breach of lease and violation of the state law, which were thrown out by Justice Shirley Werner Kornreich last year.
"If the museum is complaining that it can't afford this requirement, what they really need to do is go to Albany and request that this law be changed," Michael S. Hiller, an attorney for one of the plaintiffs, landmark advocate Theodore Grunewald, told the appeals panel.
Established in 1872, the Met has a collection of more than 1.5 million objects spanning five millennia in 2.4 million square feet (223,000 square meters) of space on Manhattan's Upper East Side. Since 1971, entry to the museum has been on a pay-as-you-wish basis, with a current suggested $25 price for adults.
1970 Waiver
The museum said the city first waived the free-admission provision of its original lease in 1970 and amended the lease to confirm the discretionary admissions policy shortly before Kornreich issued her ruling.
In her decision, Kornreich said the city can choose to evict the museum if it breaches the lease but has never done so or objected to the practice of charging admission. The museum doesn't allow the public to enter for free, and visitors must pay at least a penny to get in, Kornreich said in her ruling. The museum advertises a suggested price that has changed over time while admission is "de facto free for all," the judge said.
The judge allowed claims of violations of general business law and misrepresentation to continue, along with claims from the first suit seeking to compel the museum to restore an entrance in Central Park and comply with environmental regulations in doing so.
Third Parties
Bruce R. Kelly of Arnold & Porter LLP, an attorney for the museum, said permitting the claims to continue could give anyone the right to challenge contracts as third parties.
"Anybody in the entire world who shows up at the museum could claim third-party beneficiary status," Kelly said. "It would cause potential real chaos by making everybody in the city -- in the world -- a potential third party to multiple leases and contracts."
The cases are Grunewald v. Metropolitan Museum of Art, 158002/2012, and Saska v. Metropolitan Museum of Art, 650775/2013, New York state Supreme Court, New York County (Manhattan.)
Before it's here, it's on the Bloomberg Terminal.
LEARN MORE