Hong Kong Activist Group Urges End to Street Occupation
Alfred Liu and Bonnie Cao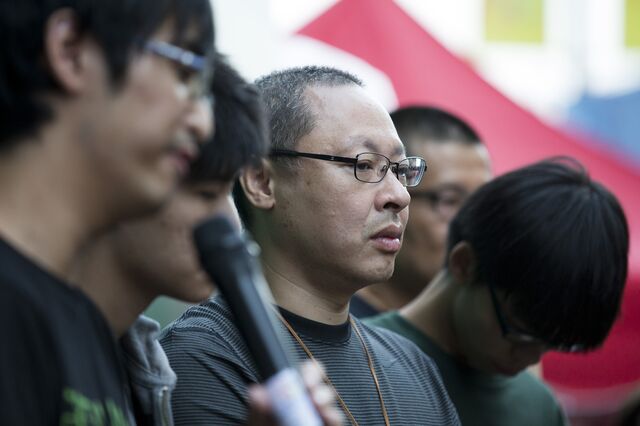 Leaders of a Hong Kong protest group that joined forces with students to demand for free elections in the city have called on the remaining demonstrators to end the two-month street occupation.
Benny Tai and his two co-founders of Occupy Central With Love and Peace said they will seek to surrender to police today to bear the consequences for taking part in illegal assemblies. The three leaders are on a list for an investigation, the South China Morning Post said today, citing an unidentified person in the police.
Their appeal came as Joshua Wong, the 18-year-old head of protest group Scholarism, and two students announced a hunger strike to press the government to restart dialogue over political reform. Hong Kong Chief Executive Leung Chun-ying told pro-democracy protesters yesterday their fight is in vain and urged them to leave the streets, as the movement showed more signs of fracturing.
"Their act is with an intention of ending the occupation without further conflict, but I doubt whether things can go as they plan," Hung Ho-fung, an associate professor of sociology at Johns Hopkins University, who studies China and Hong Kong. "They were never in control."
The Occupy Central leaders were surprised when the movement unfolded in September and their earlier calls to disperse were ignored by protesters, Hung said by phone from Baltimore.
Losing Support
Hong Kong Democratic Party Chairman Emily Lau joined those calling for the protests to end after police drove back hundreds of demonstrators seeking to surround government offices earlier this week.
"We are losing public support, both here and in the international community," Lau said in an interview with Bloomberg TV's Rishaad Salamat. "I think that's very stupid. For weeks, people supported us a lot because it was so peaceful. But now, if we turn violent and if we attract police brutality, it's crazy, so it's time for a rethink."
Police used pepper spray and water hoses to force back the student-led protesters on the night of Nov. 30-Dec. 1, with dozens injured on both sides. The city was forced to shut the government offices for part of the day. The police arrested at least 40 people.
The demonstrations, the biggest challenge to China's rule over Hong Kong since it resumed sovereignty in 1997, are fizzling amid fading public support and disagreements over tactics.
Retreat Urged
"In order to challenge this unjust system, we are willing to face lawful consequences, to surrender and bear the legal consequences," Tai said yesterday. "For the sake of the occupiers' safety, for the sake of our original intention of love and peace as we prepare to surrender, let me urge the students to retreat."
Tai, a law professor, helped found Occupy Central almost two years ago, threatening to have supporters occupy the city's central business district if China didn't permit fully free leadership elections in 2017. After China's August announcement that candidates would be vetted, Occupy was preparing to begin their sit-in when the student protests began. Occupy joined in the demonstrations that drew more than 100,000 people in the early days, more than 10 times the number Tai had forecast.
The court on Dec. 1 granted an injunction to All China Express, a bus company, for the removal of barricades on parts of the roads protesters have occupied in the Admiralty district.
Court Injunction
The new injunction will allow bailiffs, backed by police, to clear barriers blocking parts of Connaught Road, Harcourt Road and Cotton Tree Drive to permit traffic to flow, the judge ruled. Those who impede bailiffs will be liable for criminal contempt charges, according to the court ruling.
Last week, bailiffs and police removed protesters from Mong Kok, one of the three sites, through similar injunctions, leading to the biggest number of arrests in a two-day period since the demonstrations started.
The protesters are demanding that China reverse the decision to vet candidates for the 2017 leadership election. The Basic Law, the de-facto constitution, calls for candidates to be selected by a nominating committee before people vote.
Robert Chow, co-founder of the Silent Majority for Hong Kong, a group that opposes the occupy movement, said closing down the protests is the right thing to do.
"The wisest thing to do would be to move out on Sunday, peacefully, and give back Hong Kong its roads," Chow said. "I agree with democracy, but not the way they are going about it."
Before it's here, it's on the Bloomberg Terminal.
LEARN MORE