Double-Dipping, Dog Whistles, and Obamacare: The Last Senate Debate of 2014
Senator Mary Landrieu and Representative Bill Cassidy met Monday for one final debate before their runoff election.
By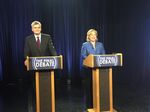 It had been more than a month since any candidate for Louisiana's U.S. Senate seat walked onto a debate stage. A runoff had removed Tea Party candidate Rob Maness and some fringe contenders from the race so that Democratic Senator Mary Landrieu had a clean race against Republican Representative Bill Cassidy all month. And it had seemed to get away from her, first when 41 senators blocked her Keystone XL pipeline bill, then when early votes seemed to be breaking for the Republican.