Aviva to Buy Friends Life for $8.8 Billion, Shares Surge
Sarah Jones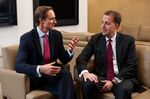 Aviva Plc, Britain's second-largest insurer by market value, agreed to buy Friends Life Group Ltd. for about 5.6 billion pounds ($8.8 billion) in stock in the U.K. industry's biggest takeover in 15 years. Friends Life shares rose to the highest since 2009.
Aviva is offering 394 pence in stock for each Friends Life share, according to a statement today. That's 15 percent more than Friends Life's closing price on Nov. 20, the day before the companies disclosed that they were in talks. Based on yesterday's price, the offer drops to 370 pence apiece.
Aviva is adding some 5 million customers, tapping the smaller insurer's cash flow to help fund an expansion within existing markets, while accelerating dividend growth. Chief Executive Officer Mark Wilson, 48, said the transaction will help save about 225 million pounds in annual costs by the end of 2017, through job cuts and merging businesses.
"The acquisition validates our buy on Aviva confirming its cash and growth premise," Mark Cathcart, an analyst at Jefferies International Ltd. wrote in a note to clients. Management are "clear on the vision and outlook for the combined company," he said.
Aviva closed at 500 pence in London, little changed on the day. Friends Life, whose shareholders will own about 26 percent of the combined company, gained 2.4 percent to 375.1 pence after earlier touching its highest level since May 2009.
Aviva Dividend
If the deal completes, Friends Life shareholders will receive a proposed second interim dividend of 24.1 pence a share. At Aviva, directors have proposed to pay a 2014 final dividend of 12.25 pence a share, an increase of 30 percent.
The combined Aviva and Friends Life will have 16 million customers, challenging Legal & General Group Plc's position as the largest manager of U.K. pension assets. The deal is expected to result in an additional cash flow of about 600 million pounds a year, according to the statement.
The takeover is the biggest among British insurers since CGU Plc's 7.4 billion-pound merger in 2000 with Norwich Union Plc, which created Aviva, according to data compiled by Bloomberg.
"I would accept that not everyone saw this deal coming," Wilson said on a conference call with journalists today. "Let me be clear that the acquisition is absolutely consistent with our investment thesis of cash flow plus growth. Cash flow is what our investors signed up for."
Job Losses
Wilson was appointed CEO in January 2013 after a shareholder revolt cost his predecessor his job. He has since changed at least half of his senior managers and sold off assets as he strived to rebuild capital, increase cash flow and shrink billions of pounds of debt. Analysts including Sanford C. Bernstein Ltd.'s Edward Houghton and Deutsche Bank AG's Oliver Steel said the deal will address some of these issues.
The CEO said today that combination of the two companies may lead to "some head count reductions" without elaborating.
"There is an impact on our people and we will look to minimize job losses first and we will consult with our people first," Wilson said. "A significant amount of cost synergies are not job related."
Aviva has been seeking to boost profitability and increase third-party assets at its investment unit after hiring Euan Munro from Standard Life Investments late last year. The company today said the deal would add about 70 billion pounds of Friends Life's U.K. assets, increasing funds under administration by as much as 29 percent to about 309 billion pounds.
Cowdery Pay
Friends Life, led by Andy Briggs, had been hurt after the British government scrapped rules that pushed retirees to buy an annuity, threatening a key source of domestic profit growth. The company has three buy ratings, nine holds and one sell recommendation, according to Bloomberg data.
If the deal completes, Briggs will be become CEO of Aviva U.K. Life and will join the board as an executive director. Friend's Life Chairman Malcolm Williamson will join Aviva's board as a senior independent director.
The company's founder, Clive Cowdery, and partners stand to make about 220 million pounds from the transaction due to incentives dating from the insurer's 2008 creation as Resolution Ltd. Resolution, which was designed to buy up ailing insurers, later scrapped that strategy and renamed itself after Friends Provident, one of its operating businesses.
Morgan Stanley, JPMorgan Cazenove and Robey Warshaw LLP advised Aviva. Friends Life was counseled by Goldman Sachs Group Inc., Barclays Plc and RBC Capital Markets.
Before it's here, it's on the Bloomberg Terminal.
LEARN MORE