Xi Outlines 'Big Country Diplomacy' Chinese Foreign Policy
Ting Shi and David Tweed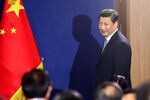 China must establish "big country diplomacy with Chinese characteristics," President Xi Jinping said in a speech that laid out his goals for making the nation a major strategic power, a further sign he's jettisoned a long-standing policy to limit involvement in foreign affairs.
The Central Conference on Work Relating to Foreign Affairs, the Communist Party's highest-level meeting on foreign relations, sought to establish "the guidelines, basic principles, strategic goals and major mission of China's diplomacy in the new era," the official Xinhua News Agency reported.
"China must have big country diplomacy with Chinese characteristics," Xi was quoted by Xinhua as saying at the meeting last weekend. Foreign relations under his leadership should bear "distinctive Chinese style, Chinese manner and Chinese attitude."
The meeting, attended by the other six members of the Politburo Standing Committee, was the first such gathering in eight years. Xi's predecessor Hu Jintao convened the central conference in August 2006, nearly four years after he became party chief.
The speech by Xi reflects how China is shifting from its long-held dictum "hide your brightness, bide your time," as set by late leader Deng Xiaoping more than 20 years ago. Since coming to power Xi has traveled extensively in Asia, Europe and Africa and recently hosted the Asia-Pacific Economic Cooperation forum, touting China's role as a major security and economic power after years of U.S. dominance in the region.
"It's clear that the current leader doesn't want to practice this dictum any more," said Niu Jun, a professor of international relations at Peking University in Beijing who has researched the Communist Party's foreign relations for 30 years. "This is a very significant indicator of a transforming foreign policy."
Military, Economy
Under Xi, China is modernizing its military, asserting its territorial claims in the East China Sea and South China Sea, and boosting investment and trade with its neighbors. Xi has also pushed a plan to revive the ancient Silk Road trading route to Europe, part of his "Chinese dream" to rejuvenate the Middle Kingdom and expand its sphere of influence beyond economics to politics and culture.
Xi urged those at the meeting to "keep in mind new tasks that should be carried out under new conditions" and to work hard to "creatively pursue China's diplomacy in both theory and practice, highlight the global significance of the Chinese dream," according to Xinhua.
China must keep abreast with global developments and make "sound, accurate and thorough assessments of the changing international environment" if it wants to be strong and achieve the Chinese dream, Xi said at the meeting, also attended by senior diplomats and military officers.
'Big Ambitions'
Compared to Deng's "hide and bide" approach, which was born out of an era when the party was focused on developing the economy and maintaining political stability, Xi's concept looks outward and is more driven by his personal style, Niu said. "Xi's style is Xiong Xin Bo Bo," or "full of big ambitions."
"This speech confirms that China has moved to a different kind of posture -- one where China pro-actively tries to shape its own environment," said Zhang Baohui, director of the center for Asian Pacific studies at Lingnan University in Hong Kong. "China is no longer the passive actor that Deng prescribed."
'Mutual Benefit'
In his speech, Xi said the Chinese dream is "a dream of peace, development, cooperation, and mutual benefit" and pledged to "appropriately resolve the territorial and island disputes" with neighbors while safeguarding China's sovereignty. China's claims in the South China Sea have been contested by Southeast Asian nations including Vietnam and the Philippines.
"Although the speech certainly suggests a self-confident China that will be active in its diplomacy, it also suggests that Xi might want to smooth some of the rough edges off China's recent diplomacy," said Joseph Fewsmith, a professor at Boston University who studies China's leadership. "He talks about creating a periphery that shares a common fate."
The speech reflects China's efforts to use its economic clout in the region and preempt concerns from neighbors about its rise, said Zhang from Lingnan University. Such a strategy plays to China's strengths, he said, because "territorial conflicts drive others toward the United States."
Peace, Development
Xi said foreign policy should help realize two goals for the party: Doubling China's national income from 2010 levels and achieving the renewal of the nation by the 100th anniversary of the Communists gaining power in 2049.
"We should be fully aware that the global economic adjustment will not be smooth sailing; but we also need to recognize that economic globalization will not stop," Xi said. "We should be fully alert to the grave nature of international tensions and struggle; but we also need to recognize that peace and development, the underlying trend of our times, will remain unchanged."
Before it's here, it's on the Bloomberg Terminal.
LEARN MORE