Review: New Masa Outpost Kappo Masa Is Excellent, But Uneven
By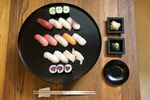 If you were extraordinarily lucky, every time you looked up between bites of sushi you would see Masayoshi Takayama spinning another cluster of warm rice for you in his hands. The chances of this are pretty small. Takayama, widely considered to be the greatest sushi chef in this country, builds omakase menus for only a handful of diners each night at Masa, where dinner begins at $450 a person.

The chef opened his flagship in 2004 and went on to build an empire with several outposts in Las Vegas and New York. Kappo Masa is his latest, a collaboration with gallery owner Larry Gagosian, set in the yellow-tinged basement of the Gagosian Gallery on Manhattan's Upper East Side. To get in, you walk through the gift shop -- Haring skateboards, Basquiat skis, Warhol surfboards -- and down the stairs. The hosts look sharp, standing in front of a massive Cy Twombly painting, the women in flared navy and yellow dresses by Lisa Perry, the men in well-cut navy trousers and narrow ties.

During the dinner rush, it can seem like the entire crowd knows each other, with so many people winking and waving, rushing over to the yellow leather banquettes to slap each other on the back, or nodding coldly across the wood-paneled dining room. A fun game is to quietly identify the celebrities (or to correct overexcited friends at your table, who are mistakenly identifying regular good-looking New Yorkers as celebrities).

Takayama isn't here every night, but some classic dishes associated with him are, like a dish of raw kampachi with strands of crisp potato and jalapeño ($28) and a mound of cool, chopped fatty tuna crowned with caviar ($68). "My thing is, I don't eat fish," one woman told her waiter when he suggested the springy surimo noodles made from fish protein, dressed in shaved bottarga and cilantro. Luckily the menu is long, with many sections beyond sushi -- hibachi grill, braised meats, tempura -- making it ideal for this neighborhood's difficult clientele.
"Soup?" One diner shouted, when the waiter brought out his maitake mushroom soup. "But I don't want soup!" Actually, right now is a very good time to eat maitakes. They are complex and meaty, which may be why they're called the hen of the woods in English, but that name can seem inadequate. At Kappo Masa, you can also find the mushroom grilled so it's smoky, with the delicate, fluttering texture of some mythical winged creature. Rolled loosely inside rice, warm and heaped with truffles ($34), it's fantastic.

Do you like truffles? Other things can be smothered with truffles here as well: the fried rice ($120), the buttery beef tataki made from wagyu cattle raised in Omihachiman ($150), the lobster risotto ($58), and of course the white truffle sushi ($35), which sounds ridiculous and excessive, but will give you nothing to complain about.
The staff is pleasant, but they can be a bit careless, too. Sitting alone in a quiet dining room, waiting for a friend to show up, it took me nearly 15 minutes to convince someone to take my drink order. And the uni risotto, also capped with a little snow of truffles ($68), was served with a damp wooden spoon that was strongly perfumed with dish soap, and made everything taste like a filthy rag. (If I were a demon, I'd be tempted to drop the hot poker routine and instead serve my victims this delicious rice, sticky and melting with sweet sea urchin, with only a soap-soaked wooden spoon to get at it. I can't imagine a more extravagant form of torture.)

Kappo Masa serves much of the same seafood as Masa and Bar Masa -- mackerel from Aichi, fluke from Kyushu, clams from Massachusetts, sea urchin from California -- but delivers it casually and a la carte. If you care only about the quality of the fish, this might make the pricey dinner at Kappo Masa seem like a deal. But if you care about other things, like the polished service and attention to detail that should also be expected at this price level, you may be disappointed.

At lunchtime, the menu is tightly focused and you can walk in without a reservation for bento and a short list of rolls and sushi. For those interested in Takayama's cooking, not so much the scene, this may be the best time to go (although sadly the hibachi grill that works magic on matsutakes won't be burning then).

Each exquisitely constructed bento comes with a wooden tray of sides: maybe a couple of fresh, tender gingko berries, a bite of fried chicken, pickled carrots and greens, a juicy shiitake mushroom, and half a hard-boiled egg. The rice that accompanies it is hot and diaphanous, the tempura so light it might float away if you don't reach for it immediately and begin to crunch ($32). This rice bowl is what it looks look like when Masa Takayama goes super casual -- a format so simple, you might have underestimated how great it could be when done with so much care.

Rating: Two Stars (Very Good)

What to order: Grilled maitake roll with truffles ($34); tempura rice bento ($32); kanpachi jalapeño potato julienne ($28); baby dancing shrimp ($26)

Who's next to you: Power couples with their in-laws; mother-daughter shopping teams in designer sweatpants; beautifully dressed art dealers with clients

Need to know: The omakase, which ran briefly at $350 a person, has been removed temporarily and will return in the New Year. If you don't have a reservation, and you want to check out Kappo Masa, go at lunch time (the hibachi isn't on, but there's excellent bento and a fine sushi list).

Soundtrack: Jazz vocalists, from Sarah Vaughan and Ella Fitzgerald to Billie Holiday
Kappo Masa is at 976 Madison Avenue (Upper East Side); +1 212 906-7141 or kappomasanyc.com
Tejal Rao is the New York food critic for Bloomberg. Follow her on Twitter @tejalrao and Instagram @tejalra or contact her at trao9@bloomberg.net.


Before it's here, it's on the Bloomberg Terminal.
LEARN MORE