Putting a Price Tag on China's Wasted Infrastructure Investment
Christina Larson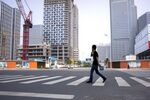 Two economists working for China's economic planning body, the National Development and Reform Commission, have attempted to put a price tag on the amount of money wasted over the past five years on unnecessary, underutilized, or shoddily built infrastructure. Their estimate, as published recently in the state-run Shanghai Securities Journal, was $6.8 trillion.
The economists, Xu Ce and Wang Yuan, estimate that the most recent two years have been the most wasteful. The end of President Hu Jintao's administration saw a tightened spigot of public investment (following a hefty post-recession stimulus package), but public spending has increased again under Xi Jinping, who became general secretary of the Communist Party of China in November 2012.
Their calculations are based on a comparison of China's capital efficiency in the 1980s, 1990s, and 2000s. Economists may reasonably debate the merits of the methodology—which would put the wasted money at 37 percent of all public infrastructure investment from 2009 to 2013. The consensus that China's infrastructure spending has long been woefully wasteful, however, is an open secret.
In a report naming 2012 as the ""Year of the (White) Elephant" (pdf), the Beijing firm J. Capital Research enumerated several of China's dubious recent infrastructure projects. Restrictions on bank lending over the past five years, which helped enable the shopping mall and airport-building boom, have also led to ballooning local government debt.
Before it's here, it's on the Bloomberg Terminal.
LEARN MORE