PBOC Shuns Currency War as Yuan Fixings Raised: Chart of the Day
Bloomberg News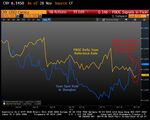 Yuan fixings set by China's central bank suggest the world's second-biggest economy won't be weakening its currency to boost exports as growth slows.
The CHART OF THE DAY shows the People's Bank of China's reference point was set last week at the biggest premium to the yuan spot rate since August. The PBOC raised the rate on Nov. 27 to 6.1320 per dollar, the strongest since March 13. The yuan in Shanghai is allowed to deviate a maximum 2 percent on either side of the fixing, a range that was doubled on March 17.
The yuan is the only Asian currency to post a gain against the dollar since the end of June, having appreciated 1 percent. The yen's 14 percent slide is the worst in the region after the Bank of Japan added to its monetary stimulus, contributing to the South Korean won's 8.7 percent decline as the nations compete in export markets. The European Central Bank's monetary easing has spurred the euro's 9.1 percent loss.
"It's clear from the fixing pattern that China has no intention to join any currency war," said Tommy Ong, executive director of treasury and markets at DBS Bank Hong Kong Ltd. "A stable or stronger currency makes sense for the nation as it's transforming away from an exports-dependent one to a more domestic consumption-driven economy."
China's first interest-rate cut since 2012 sparked concern the government will favor a weaker currency to bolster exports and shore up economic growth. The spot rate fell by the most in two months on Nov. 24 when the rate reduction took effect. The central bank engineered a 2.6 percent decline in the currency in the three months through March to halt a sixth quarterly advance and deter one-way appreciation bets.
A depreciating yuan trend is unlikely as it could intensify trade frictions and lead to capital outflows, the PBOC's Financial News reported Nov. 26, without saying where it got the information.
"Bets on the yuan are no longer for one-way gains, so there isn't a reason for the PBOC to weaken the currency," said Eddie Cheung, Hong Kong-based strategist at Standard Chartered Plc. "While China's monetary policy serves to boost growth, its foreign-exchange policy is more about advocating stability and assisting the economy in its transformation."
— With assistance by Fion Li, and Josh Zhang
Before it's here, it's on the Bloomberg Terminal.
LEARN MORE