Nelson Cruz Agrees to $57 Million Deal With Seattle Mariners
Michael Sillup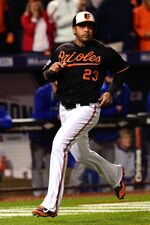 Free-agent outfielder Nelson Cruz agreed to a four-year, $57 million contract with the Seattle Mariners, ESPN reported, citing a person that it didn't identify.
Cruz, 34, hit a Major League Baseball-leading 40 home runs for the Baltimore Orioles last season.
He also has played for the Texas Rangers and Milwaukee Brewers, and was suspended 50 games in 2013 for his involvement in the Biogenesis performance-enhancing drug scandal.
Before it's here, it's on the Bloomberg Terminal.
LEARN MORE