business
Get Ready for Big Increase in Mortgage Payments
By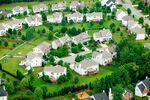 A decade ago, the housing market was heading into the busiest years of the bubble. Ten years later, hundreds of thousands of homeowners are about to get a nasty surprise. As their loans turn 10 years old, they will see their monthly loan payments reset higher—in some cases more than double.
The trouble is coming for loans that had such features as adjustable rates and interest-only periods that let homeowners borrow more than they would have been able to afford via a typical fixed-rate loan. Subprime loans have typically been resetting after three years or five years; the more borrowers' monthly payments went up, the more likely they were to fall behind on their loans.
A report from Fitch Ratings says this problem impends for more than 700,000 borrowers who took out prime jumbo loans—mortgages larger than what Fannie Mae and Freddie Mac allowed—and Alt-A loans, which went to borrowers whose credit scores placed them between prime and subprime. More subprime loans have already reset than the total number of affected prime jumbo and Alt-A loans, but payments for the newest batch will increase far more than they did for the subprime loans.
Because interest rates are expected to remain low over the next several years, the pain of jumps in rates won't be the biggest source of trouble. The greater problem stems from how principal payments begin to kick in. Borrowers whose loans reset after 10 years have only 20 years left to pay down what they borrowed. That means their monthly principal payment will be higher than if they'd taken out a fully amortizing loan—or even a subprime loan, which offered shorter interest-only periods.
Fitch says these borrowers probably wouldn't benefit from loan modifications because they tend already to be paying low interest rates, and loan modifications typically require the principal to be fully amortized. This means that principal payments will kick in, no matter what, making the modified payments higher than the interest-only payments borrowers were making.
With loan modifications providing little help, borrowers have only a few, not terribly easy options: Pay higher monthly bills, try to qualify for a refinanced loan, or default on their loans entirely.
Before it's here, it's on the Bloomberg Terminal.
LEARN MORE