The Year in Jewel Heists: Thieves Get Smarter, Take More Loot
By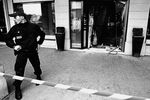 Gunshots rang out in central Paris on the afternoon of Nov. 25, as two men robbed a Cartier boutique near the Champs Elysées, exchanged fire with police, and fled on a motor scooter with a stash of jewelry and diamond-encrusted watches.
That crime was only the latest in a string of bold, broad-daylight jewel heists worldwide. On Nov. 11, a gunman posing as a delivery person took some $500,000 worth of luxury watches from a store in New York City's diamond district. Robbers wearing burqas cleaned out a Toronto jeweler in October. Two other chic Paris boutiques were hit earlier this year, while Cartier's Fifth Avenue store had a smash-and-grab robbery in January.
The perpetrators of these crimes don't much resemble the debonair cat burglar Cary Grant in To Catch a Thief, or the skilled technicians recruited by George Clooney in Ocean's Eleven and its sequels. More often, real-life thieves employ sledgehammers, axes, and assault rifles. One group in the Philippines, known as the Acetylene Gang, even breaks into stores with acetylene torches.
The number of heists in some countries, including the U.S. and France, has declined in recent years. But at least in the U.S., the value of the stolen loot has increased, because of a rise in "million and multi-million dollar robberies and burglaries," according to the Jewelers Security Alliance. The New York City-based trade group reports that the value of jewels and watches stolen in the U.S. rose 10.5 percent in 2013, even as the number of crimes fell 8.1 percent, to 1,414 reported incidents.
Even more worrisome, jewelry-store robberies "are more and more brutal," says Martin Winckel of the International Jeweller Security Service, a German-based outfit that advises jewelers on trends in jewel-related crime and in protecting themselves against thieves. (His research shows, for example, that the single most frequently stolen item is the Rolex watch, and that the risk of an employee's being killed or injured during a robbery is highest in small shops where only one person is on duty.)
Some recent heists have been carefully planned. On Valentine's Day, thieves drove a stolen pickup truck through the front door of a store in Paramus, N.J., wrapped cables around a safe containing $250,000 in jewelry, and dragged it outdoors to a front-end loader that dropped the safe into a waiting vehicle. Security cameras recorded the caper.
But there are plenty of bumbling robbers, too, such as the eight men who tried to rob a Paris jewelry store last January. Wielding sledgehammers and axes, they managed to break through one of two reinforced glass doors, but were still trying to get through the second door when police arrived and arrested them. (Security adviser Winckel says that double glass doors activated by a buzzer inside the store are among the best deterrents to robbery.)
Contrast that with the smoothly executed operation last year at the Brussels airport, where robbers wearing airport police uniforms drove fake police cars onto the tarmac. Holding security guards at bay with automatic weapons, they grabbed $50 million in diamonds being loaded onto a plane, and sped away through a hole they had cut in a security fence.
Most jewel heists, though, aren't big enough to guarantee a comfortable retirement. Winckel says that robbers working for gangs are generally paid 10 percent to 20 percent of the wholesale price of the haul, which in turn is about half the retail price. So, for example, a robber might net $5,000 on a $100,000 watch.
That means they're likely to pull off repeated heists, increasing the risk of being caught. Law enforcement has scored some big wins this year, including the sentencing in September of a group of robbers who took nearly $3 million in luxury watches from a Selfridges department store in London in 2013. Police in New York have arrested suspects in the Cartier smash-and-grab and in the diamond-district heist. More than 30 people, including the suspected mastermind, have been arrested for the Brussels airport robbery.
As for the suspects in last week's Cartier robbery in Paris? They led police on a high-speed chase before crashing their scooter on the Left Bank and briefly holing up in a beauty salon before surrendering. The loot, whose value wasn't disclosed, was recovered.