How a Conservative Backlash Silenced #Ferguson Reporters for All the Wrong Reasons
On the right, it's becoming conventional wisdom that the reporters who flooded Ferguson are responsible for all the anger and violence.
By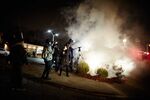 On August 15, after the killing of Ferguson, Missouri teen Michael Brown had surged into the national consciousness, the Washington Post's DeNeen L. Brown filed a story from a town up the road. There were "dark blue undercover police cars parked outside the house of Darren Wilson." That house was located on "Manda Lane in Crestwood." On August 16, the same details appeared in a story co-bylined by Brown, Jerry Markon, and Wesley Lowery. "Dark blue undercover police cars were parked outside his house on Manda Lane," they wrote. Both stories made it clear that Wilson, the officer who killed Brown, had taken himself elsewhere.