House Republicans Set Votes in Plan to Avoid Shutdown, Fight Obama
Erik Wasson and Heidi Przybyla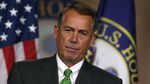 House Speaker John Boehner presented a two-step plan to Republican lawmakers to try to curb President Barack Obama's immigration orders while avoiding a government shutdown this month.
The House plans to vote this week on a version of a largely symbolic bill, H.R. 5759, that would deny the president authority to protect undocumented immigrants in the U.S. from deportation, said Representative John Mica, a Florida Republican.
The proposal would let House Republicans show disapproval of Obama's executive action on immigration and then vote for a bill to fund most of the government through September 2015. The Department of Homeland Security, with primary responsibility for immigration policy, would be funded only into March 2015, said Representative Tom Reed, a New York Republican.
"We have limited options and limited abilities to deal with it directly," Boehner told reporters today. He said lawmakers are considering "a variety of options" for action this month and also in January when Republicans will control both chambers of Congress.
The strategy is an early test of Boehner's ability to control the Tea Party wing of his conference after the November election. At least a half-dozen House Republicans said they would oppose the plan in its current form, and it's unclear whether the proposal would have the votes to pass.
Republicans 'Capitulating'
Representative Raul Labrador of Idaho said Republicans would be "capitulating" if they didn't insist on imposing limits on Obama's immigration plan as part of a spending bill.
Representative Steve King of Iowa said he also is urging colleagues to include language in the funding bill that would block Obama's order on immigration.
"I will not vote to fund the president's lawless unconstitutional act and they should not be asking members to do so," he said today.
The president announced Nov. 20 that he would temporarily halt deportations for about 5 million undocumented immigrants in the U.S. His directive will defer for three years the deportation of people who came to the U.S. as children and for parents of children who are citizens or legal permanent residents.
The Department of Homeland Security will streamline the visa process for foreign workers and their employers and give high-skilled workers more flexible work authorization.
Veto Threat
Obama has said he would veto any legislation that would block his immigration orders. Congress must pass funding legislation by Dec. 11 or risk a partial government shutdown.
Democratic Senator Claire McCaskill of Missouri said she was open to short-term funding for the Department of Homeland Security as long as the rest of the government is funded through September 2015.
Some Republicans who oppose the House's two-step proposal said they would seek changes. Louisiana's John Fleming said homeland security funding should end Jan. 15 so Congress would have to address the issue right away.
Joe Barton of Texas said Congress should defund work permits allowed under Obama's executive order and next year enact a plan offering limited legalization of undocumented immigrants.
'Amnesty' Proposal
House Appropriations Chairman Hal Rogers, a Kentucky Republican, said he approved of the two-step plan. Although he would prefer to fund the entire government through September 2015, Rogers said, "we do need to look at the president's amnesty proposal and this would give us some time to do so."
Many Republicans refer to Obama's executive order as amnesty for undocumented immigrants in the U.S.
House Minority Leader Nancy Pelosi has threatened to withhold Democratic votes for a partial spending measure. If the threat holds, Boehner would have to get a large majority of his members on board to pass it.
After Republicans take control of the Senate in January, Congress could fight the immigration order using a Department of Homeland Security funding bill.
A House Republican aide, who sought anonymity to describe private talks, said some members also propose a court challenge to the immigration orders. They want to add it to a lawsuit the House filed against Obama last month over implementation of the health-care law, the aide said.
'Symbolic' Vote
Representative Ted Yoho, a Florida Republican, noted that his bill to halt Obama's deportation actions can be blocked in the Senate by Nevada Democrat Harry Reid in his last month as majority leader.
"It will be symbolic if Reid does," Yoho said.
Florida Republican Dennis Ross said he thinks leaders will find enough support for the plan. A government shutdown wasn't discussed during Republicans' private meeting today, he said.
"We're not going to take that bait," Ross said.
Congressional Republicans' public opinion numbers dropped after the 16-day partial shutdown in October 2013.
The current fiscal year began Oct. 1, and the government has been operating on short-term funding scheduled to run out Dec. 11. Boehner and other leaders have said Republicans won't create a repeat of last year's shutdown.
While Obama's actions amount to the most significant changes to the nation's immigration system in a generation, they don't go as far as the legislation that passed the Senate on a bipartisan vote in June 2013 and stalled in the House.
The Senate bill would create a path to citizenship for millions of undocumented immigrants now in the U.S. Second-ranking House Democrat Steny Hoyer of Maryland and other members of his party have said they hope Obama's move will force Congress into acting on legislation.